A while ago, I shared a post on my (personal) Facebook about a topic that is very much alive within the art community at the moment, including within myself: 'AI ART'.

For me, this is a sensitive topic. I have to admit that quite a bit of anger and frustration bubbles up whenever I hear, read and speak about it. Because what many do not know is what is behind it all and how unethical the whole 'AI ART' thing really is. And that is precisely why I think it is important to talk about it, to make both artists and non-artists more aware of what is going on and to protect my work and that of so many others.

Of course, it's also possible that you don't know what I'm talking about at all :) In that case: all the better! But no doubt you will already be confronted with it subconsciously or in the future, and then I think it's good that you know what this is actually about and why so many artists are so much against it - like me.
---
What is AI ART?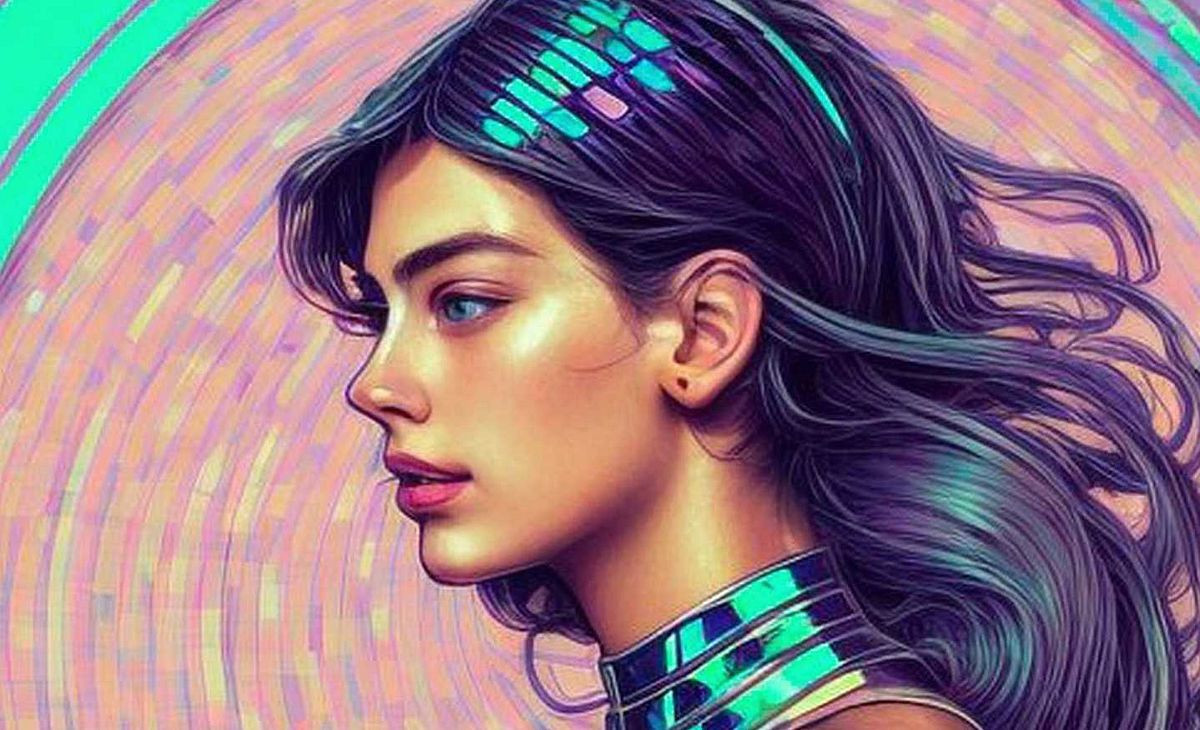 'AI ART' is artwork created by artificial intelligence ("Artificial Intelligence Artwork"). That is, a computer program/app (such as Lensa, Midjourney, Stable Diffusion, NightCafe Creator,...) generates an "illustration" within seconds based on some keywords you enter.

Say you want a drawing of a girl on a swing during a sunset. Then you enter keywords like "girl", "swing", "sunset", you choose a particular drawing style, and voila! Within seconds, the computer creates a number of illustrations for you to choose from, of a girl on a swing during a sunset.
Ironically, actually a bit like the little cartoon on the right that I recently drew for my previous blog. At the time, I was completely unaware of the whole AI thing.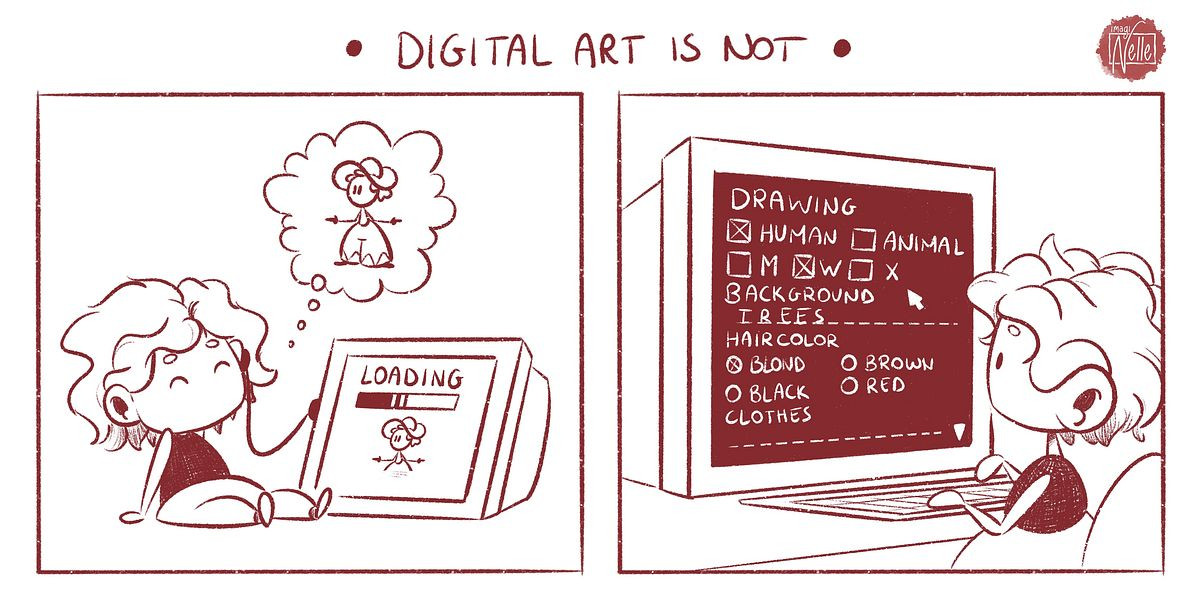 Sounds fun, would you think?
For many, it doesn't. 
---
What is the problem?
There are several problems:

Stolen art
AI ART works on the basis of stolen art, from hundreds of artists around the world. AI ART is made possible because millions of artwork were/are plucked from the internet, plugged into a database and used as a source from which the AI software "learns" and creates its "art". Very simply put (because it's more complex than that): a bit like Frankenstein and his monster - you use data from thousands of different sources and put them all together to come up with something "new".
Sam Does Arts explains it easier and much better in this video, so definitely recommended to check it out.

What do I mean with "stolen"?
All artwork (but also texts, photos, music, ...) that you find on the internet (and beyond) are subject to copyright. This means that you cannot just take something from the Internet and use it at will. Many still mistakenly think: "it's on the internet, so it's free for anyone to use, for anything." But nothing could be further from the truth! Without permission from the creator or copyright holder, you may not use it for just any purpose (unless in specific and exceptional cases and/or unless specifically mentioned by the creator/copyright holder), and certainly not for commercial purposes.



And in fact, this applies equally to the companies that created the programs for AI ART, but they get away with it. These programs scour the internet for artwork (which is always copyrighted!), put these images in their database, analyse it, learn from it, and create "new" artwork based on this database.

And that while all these artists, whose work has ended up in that database and without whom AI could not even create "art", have not given their consent for their work to be used for this, at all. They are also not credited, compensated or reimbursed in any way, while their work is used/misused without their consent by the companies behind the AI ART programs to make money from it themselves.


Danger for dubious purposes
Not only do AI ART programs use stolen artwork from hundreds of artists. In their database, they also use users' personal photos and even secret medical information.

Consider, for example, those apps where you can take a profile picture of yourself that looks just like a watercolor painting. You upload a picture of yourself, and you're done. But what you don't know is that afterwards, the app analyses your photo and learns from it to further use in its database. Consequently, your face (or a strong resemblance of it) may thus one day be used for less moral purposes and images. So your privacy and security is no longer as safe as you think.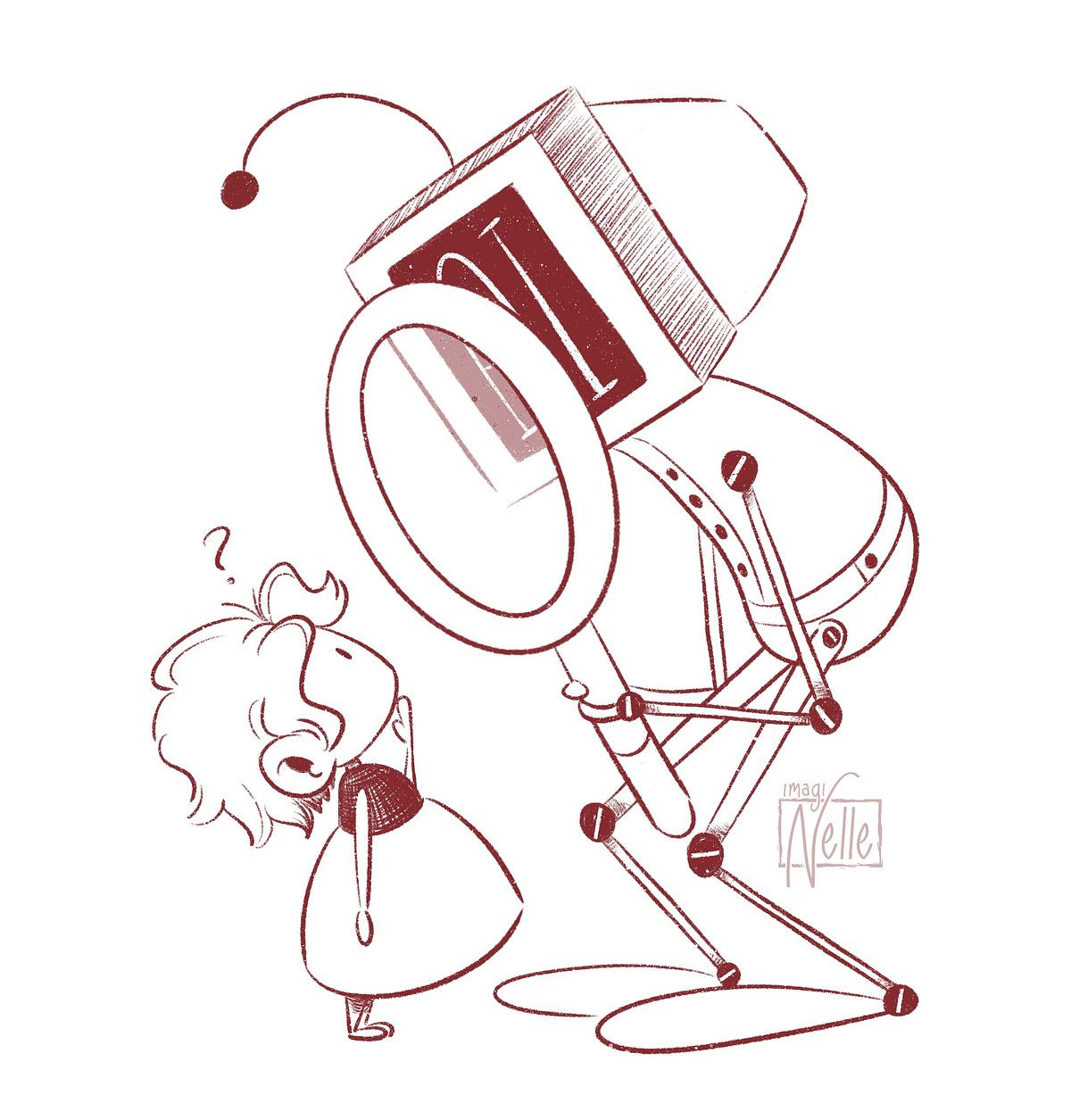 Our jobs are at risk
AI ART is putting artists' jobs at risk. There are already companies that have replaced artists of flesh and blood with AI to create their illustrations. After all, how can a human artist compete with a machine that can create dozens of illustrations in just seconds, and therefore do the job much cheaper? A clear reflection of the consumer society we live in. It is no longer about quality, but about quantity.

Artists lose jobs and contracts, can no longer make a living and are forced to give up years of dedication and dreams. Young, aspiring illustrators become demotivated or don't even start pursuing their artist's dream. After all, is it still worth it?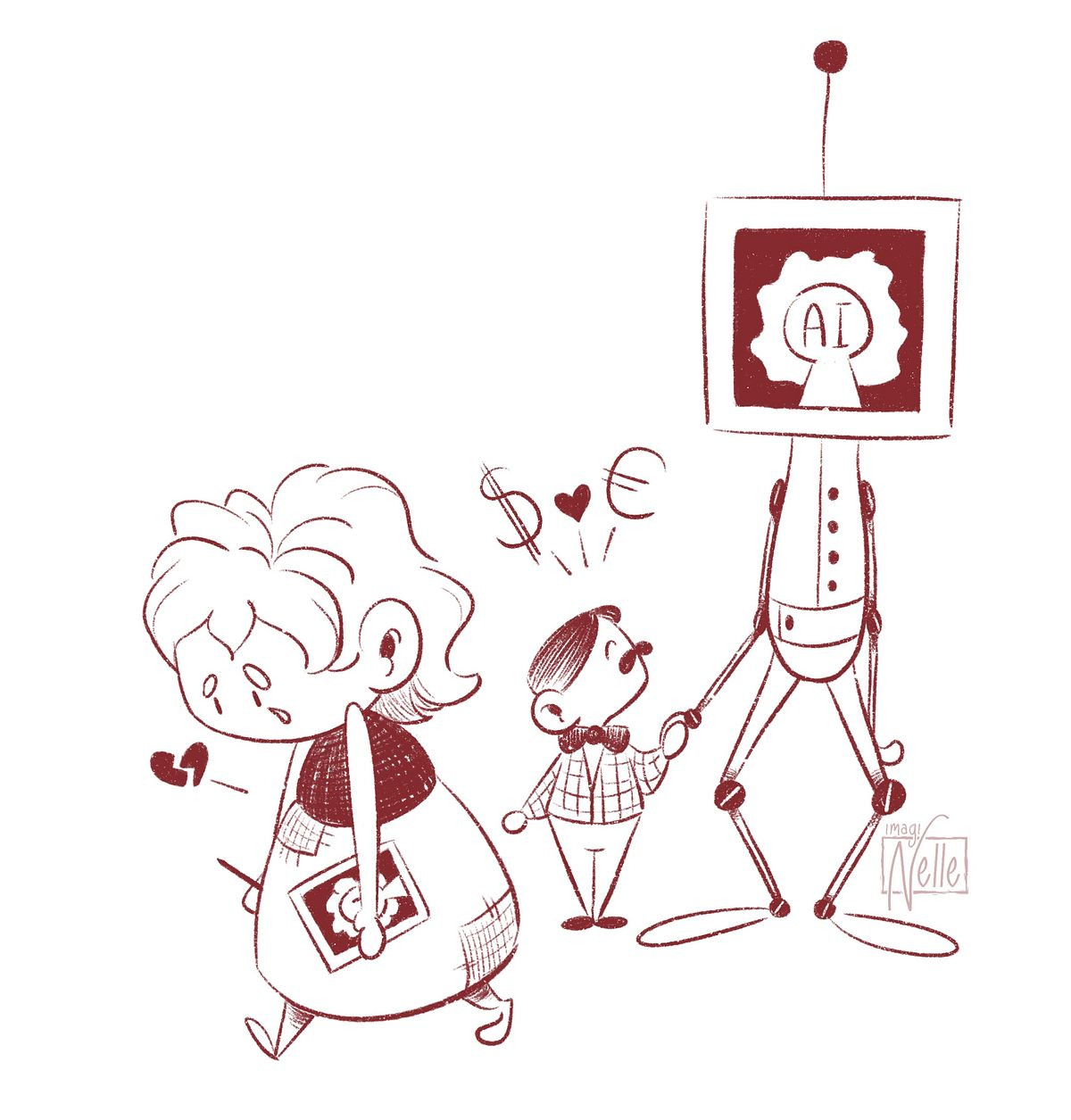 Stealing becomes easier
AI ART makes it even easier to steal artwork. Stealing artwork is nothing new unfortunately; it has been happening as long as the internet exists. Thieves pluck an illustration from the internet, get rid of the creator's signature somehow, stick their own name on it and claim that they made it themselves. Or they completely recreate an illustration and claim their illustration is the original.

But AI makes it even easier: thieves pluck artwork by one artist with a specific style from the internet, add it to the AI database and let the AI recreate it as best it can. But then sufficiently different that they still escape copyright issues and thus cannot be sued by the real artist.

An artist I have been following and looking up to for years has unfortunately experienced this recently. And she is by no means the only one.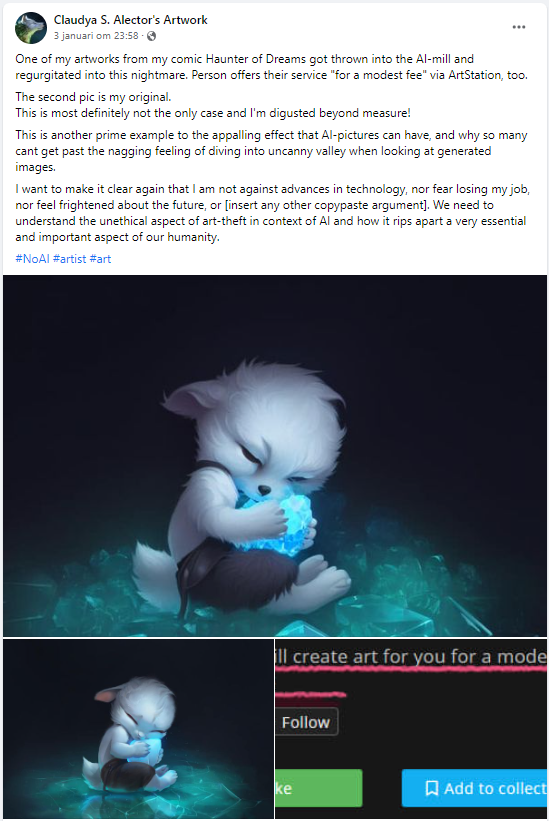 ---
Misunderstandings
"AI is not that good yet and is not that far along. You can still clearly see that a computer created the artwork."
In some cases this may be true, but in many cases it is already almost impossible to see that it is AI-made. In fact, an art competition has already been won with an AI-made illustration, without the judges and other participants knowing it was AI ART.
Even so, AI does not stop and is evolving at lightning speed. Within no time, AI will be so far along that it will be completely impossible to tell whether artwork was created by a human hand or a machine.
"Artists also use other people's work all the time to learn from and as inspiration. AI does just the same thing."
There is a huge difference between artists learning from each other and a computer learning from artists. Artists have been looking at each other's work for centuries in their growth towards individuality, but do so in a very different way than AI does.

As an artist, you put your individuality, your experiences, your beliefs, your feelings, your ideas, your tastes, your lifestyle, and so many other things that make you human into your work. Even if (especially in the beginning) it is inspired by someone else's work and style. As a young artist, it is very normal to look to others to learn and as inspiration (note: this is not the same as copying! Copying among artists is also frowned upon all the time!). After all, you are still searching for your own visual voice. But there is always your individuality in that. Maybe small in the beginning, but that will continue to grow through practice and experience.

With AI, that human uniqueness is not there, and never will be. It is stolen individuality, with no humanity behind it. It is a machine. It learns without its own feelings and without heart. And the opposite is precisely what makes art art, and it has been for centuries.

And even apart from that, it is as much about what I wrote earlier: it is not allowed at all to use artwork (but equally photos, music, texts, ...) which is always copyrighted, just like that without permission for any purpose. In this case, it is being used for commercial purposes, which is prohibited by law.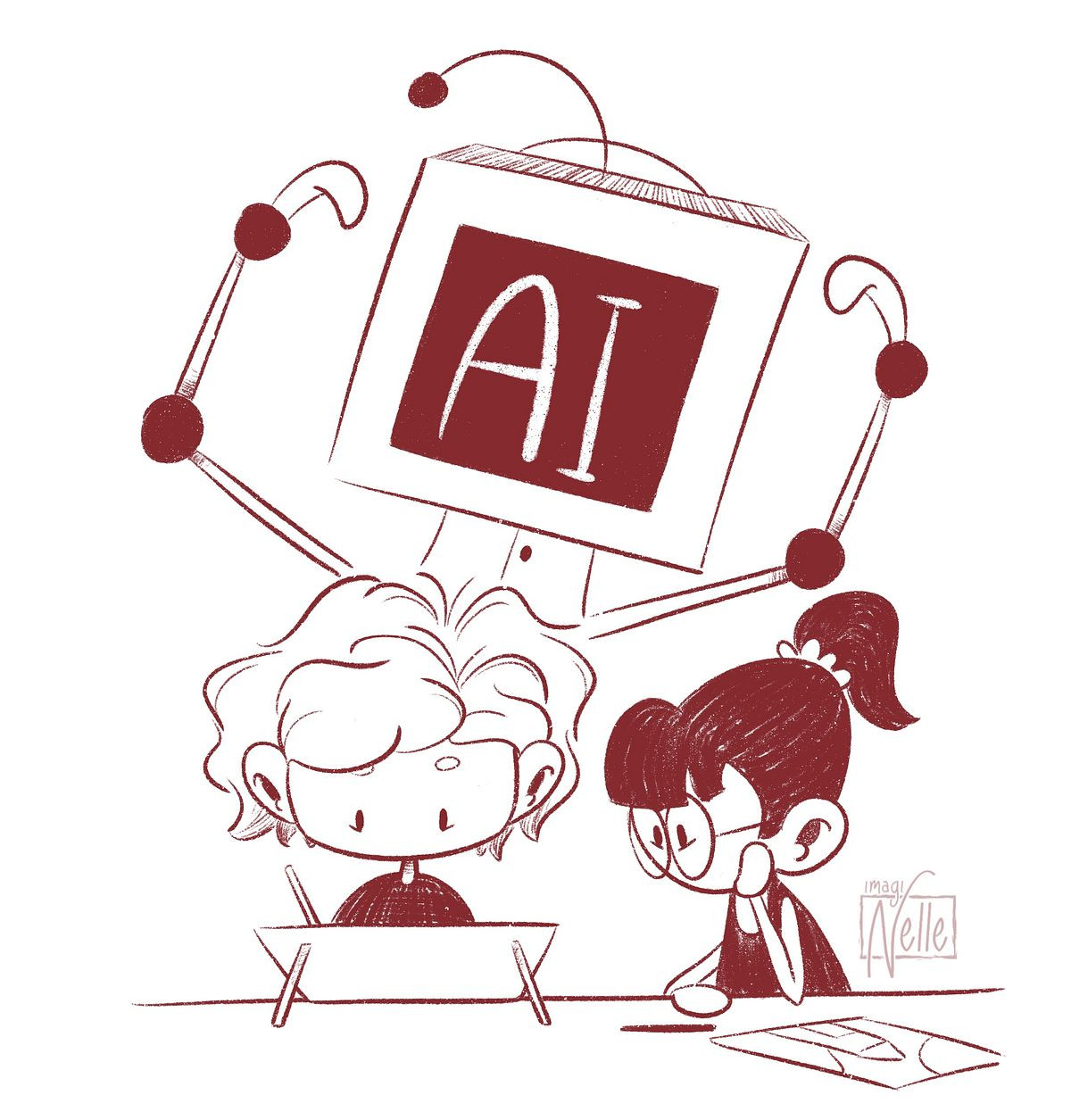 "You're just jealous that I can make something with AI that you can't (yet)."
For AI ART, you don't need skills or knowledge. AI does indeed make something, you don't. But it is made at the expense of artists. So calling yourself an artist because you let AI make artwork for you is unfair, derogatory and backstabbing towards artists.
Artists spend years of practice, training, hard work, time, dedication, perseverance, love, blood, sweat and tears to get to the level where they are today. You have to have knowledge of anatomy, perspective, composition, color, contrast, movement, guiding the eye ... just to name a few things. So it doesn't just fall into our lap, even for artists that are naturally talented. Hard work and intensive time investment is the basis for growing as an artist. So typing in a few words and choosing between the options offered to you by the AI is something else entirely. It is a slap in the face of artists.

So it's not about jealousy or gatekeeping. It's about protecting my life's work and that of so many others.
---
So what now?
AI exists, is growing and will continue to do so. As such, it has become part of our daily lives. AI ART will also continue to grow and exist, and that is okay. Generally, artists accept that too, and don't want it to disappear either. That would not be possible, by the way.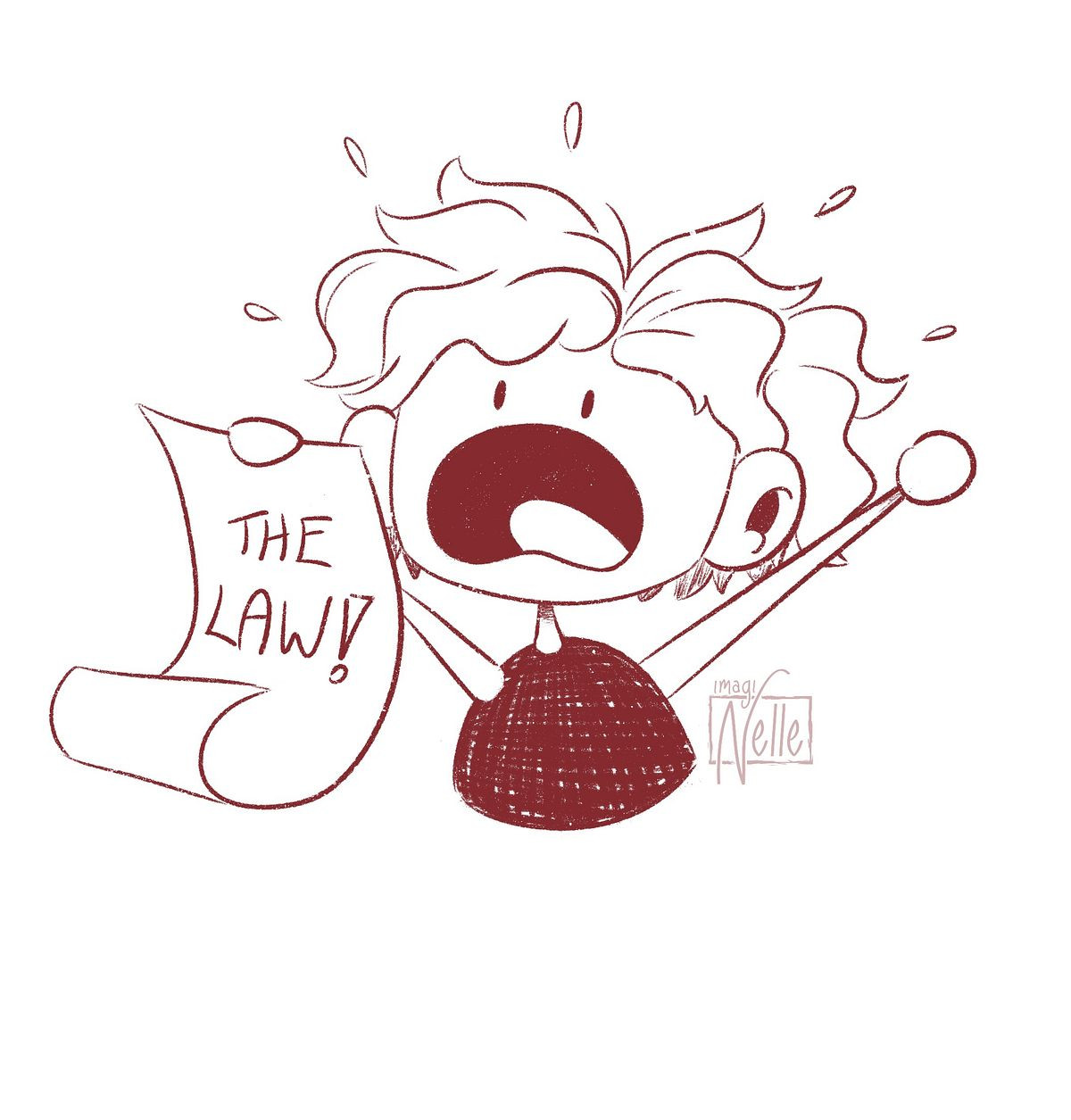 What we want is for rules and laws to be established around creating and using AI to generate artwork. That artists can choose whether or not their work is included in the database. That they are compensated for the addition and use of their work in the database.
Unfortunately, these rules and laws do not yet exist. The software has developed and is growing so fast that (international) regulations cannot keep up.

In the meantime, I and many people like me hope for some understanding of our situation, whether you (want to) use AI ART or not. We hope that supporters of and those interested in our work will continue to see the value of our work and support us (financially or otherwise, in whatever way), now and in the future.

In the meantime, we ask not to use AI for art. Not while we are being exploited, while our work is being stolen and while our jobs are at risk. It may bring you pleasure for a short while, but for us it is our life's work, our heart, our passion and our soul.

Want an illustration? Give the job to a human artist, not a machine. You might pay a bit more, but you will get so much more in return than what a machine can give you.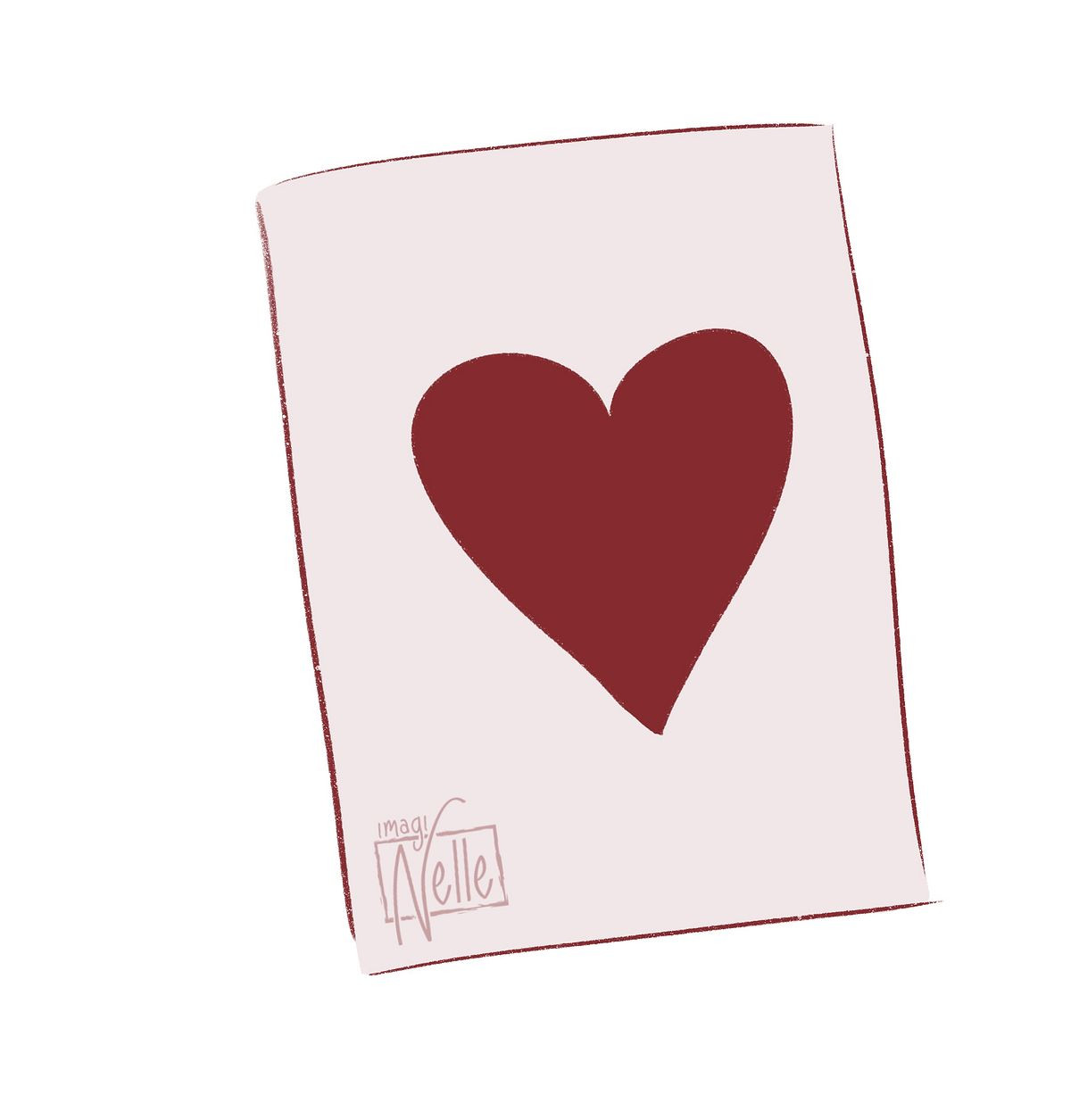 ---
Sources and more information:
"Midjourney Founder Admits to Using a 'Hundred Million' Images Without Consent" by Matt Growcoot
https://petapixel.com/2022/12/21/midjourny-founder-admits-to-using-a-hundred-million-images-without-consent/
"People Have Raised Serious Concerns About The AI Art App That's All Over Your Instagram Feed" by Kelsey Weekman
https://www.buzzfeednews.com/article/kelseyweekman/ai-art-app-lensa-instagram-photo-trend-problems
"AI art is everywhere right now. Even experts don't know what it will mean" by Rodolfo Ocampo
https://theconversation.com/ai-art-is-everywhere-right-now-even-experts-dont-know-what-it-will-mean-189800
"An A.I.-Generated Picture Won an Art Prize. Artists Aren't Happy." by Kevin Roose
https://www.nytimes.com/2022/09/02/technology/ai-artificial-intelligence-artists.html
"Auteursrecht en de vrijheid om te creëren" by Dirk Vervenne
https://smartbe.be/wp-content/uploads/2015/07/auteursrechts-en-de-vrijheid-om-te-cr--eren.pd

"De uitzonderingen op auteursrecht in de EU en copyright in de VS: De implementatie van en overeenstemming met de internationaalrechtelijke driestappentoets" by Paulien Wymeersch
https://www.scriptiebank.be/scriptie/2021/de-uitzonderingen-op-auteursrecht-de-eu-en-copyright-de-vs-de-implementatie-van-en
"Why Artists are Fed Up with AI Art" by Sam Does Art
https://www.youtube.com/watch?v=5Viy3Cu3DLk&list=WL&index=35&t=221s
"WHY AI ART IS HARMFUL FOR ARTISTS.. AND YOU" by Sara Tepes
https://www.youtube.com/watch?v=SwhPDyp76YM&list=WL&index=37&t=268s
"The Genius Artist That used Fake Art to Win An Art Competition" by Mohammed Agbadi
https://www.youtube.com/watch?v=2L4yFd06Wao&list=WL&index=36
"Is this the future we want for art?" by Jojoes Art
https://www.facebook.com/JojoesArt/posts/pfbid028cHPkuBh7azvhzM7Bh3cqVoN6CGxzadxgCWmHZSvyX5kXp34bmbuYBvmpwY4h4H1l