A question I am often asked (and perhaps most often asked) is "how did you learn to draw?".
Since I want to use my blog more extensively starting this year and would like to tell more about and zoom in on topics from the art community, this topic seemed like a nice one to start with :)

Because there is so much to tell, there is so much to learn, ... and that's where the problem often lies. There is so much to learn, but where do you start?
---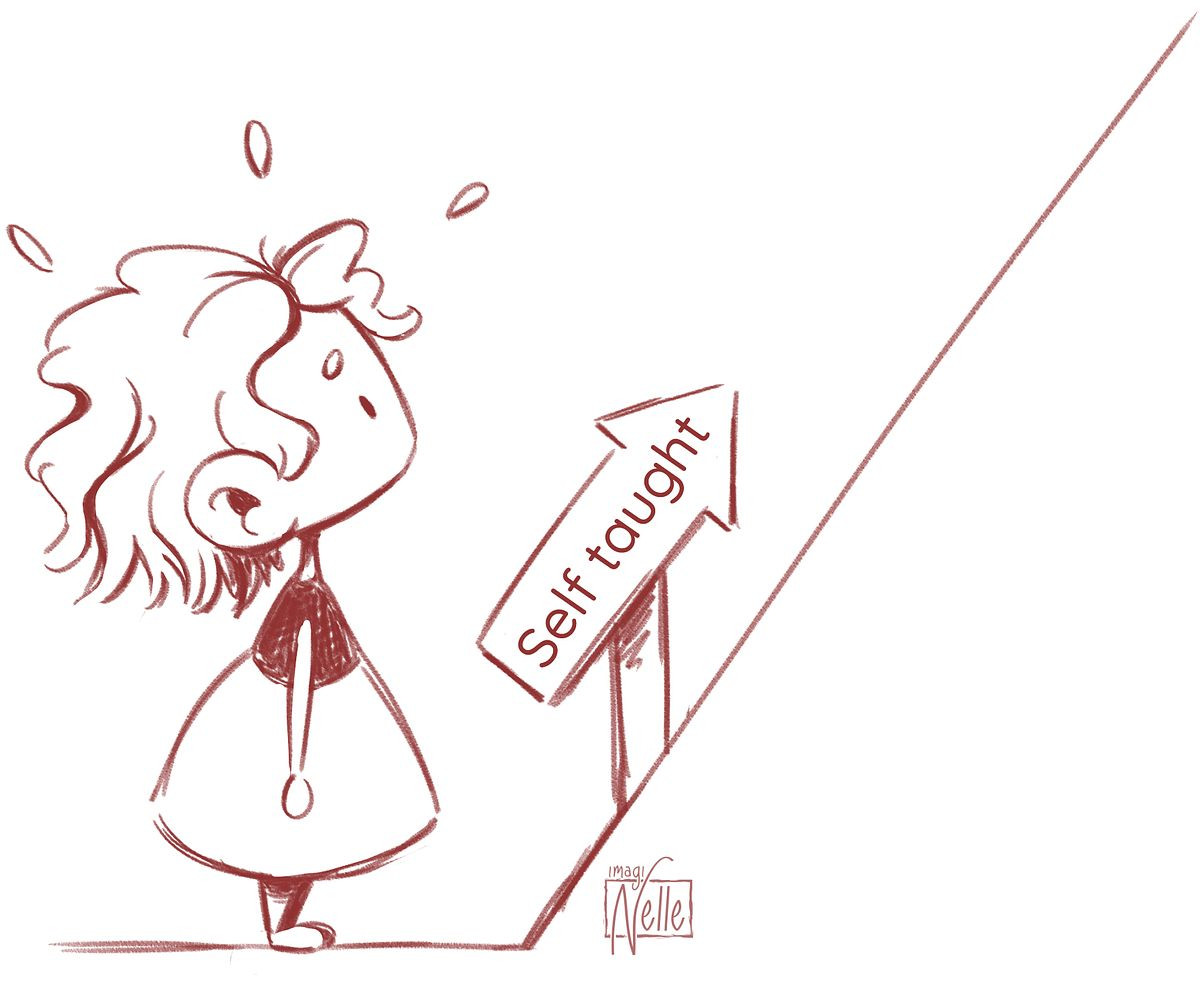 It can feel daunting when you've got that itch to draw in your fingers, maybe for many years, but you've never really had the courage to start because you haven't had any art training and you don't really know if and how you can teach yourself. And as soon as you want to start, it can seem like a huge mountain to climb. Maybe you hear that little voice in your head: "How are you going to get started? Can you even do this? And can you even do this on your own?"

My opinion? Yes, absolutely! Never let the fact that you don't have any drawing training stop you. Professional training has many advantages, of course, and will teach you things (faster) that you may not encounter on your own or only much later in your learning process. And learning to draw through self-study may require a bit more perseverance, discipline and dedication, but I am convinced: it is definitely possible!

---
When we talk about my aforementioned most frequently asked question, then maybe you already knew the answer or can probably guess it :) I am self-taught.
Therefore, I think it is important to mention that this blog is mainly based on my own experiences. I am not professionally trained and have learned pretty much everything through self-education. My methods and outlook on certain things may be different from someone who did have professional art training. And so my techniques may not always be according to "the rules of art" :) But many years of perseverance, practice and following my heart and passion have brought me to where I am today. And it is that passion that I would like to share.

My drawing-learning-curve is one of many years and with some ups and downs, but the story behind it is too extensive for this blog. So I'll save that history for a future blog. And then I grant you a glimpse behind the scenes of how things were in my early years. And trust me: it wasn't always a pretty sight :)

Hint:
Yep ...

What I mainly want to focus on in this blog are general tips and advice, from my own experiences so far, that can help you on (the beginning of) your art journey. For anyone who wants to face (or is already facing) that mountain, with itching fingers and buckling knees, so that that mountain will be a little easier to climb.

Have you already started your artistic journey, but are a bit stuck? Then maybe this blog can help you too and serve as extra support or as a little nudge.

In future blogs I will elaborate on certain tips, but in order not to make this blog too extensive, I will try (!) to limit myself to the essence here :)
---
1. There is not one right way
First of all: I think it's very important to keep in mind that there is not one right way to learn how to draw. For example, my advice and methods are not the only right ones and you certainly don't have to follow them blindly. I mainly taught myself to draw and am still in a learning process myself.

It is important throughout your drawing journey to pick up as many things as possible from different sources. From there, you can filter the tips and methods that are useful and educational for you. After all, you learn at your own pace and will find methods that work well for you but not for others.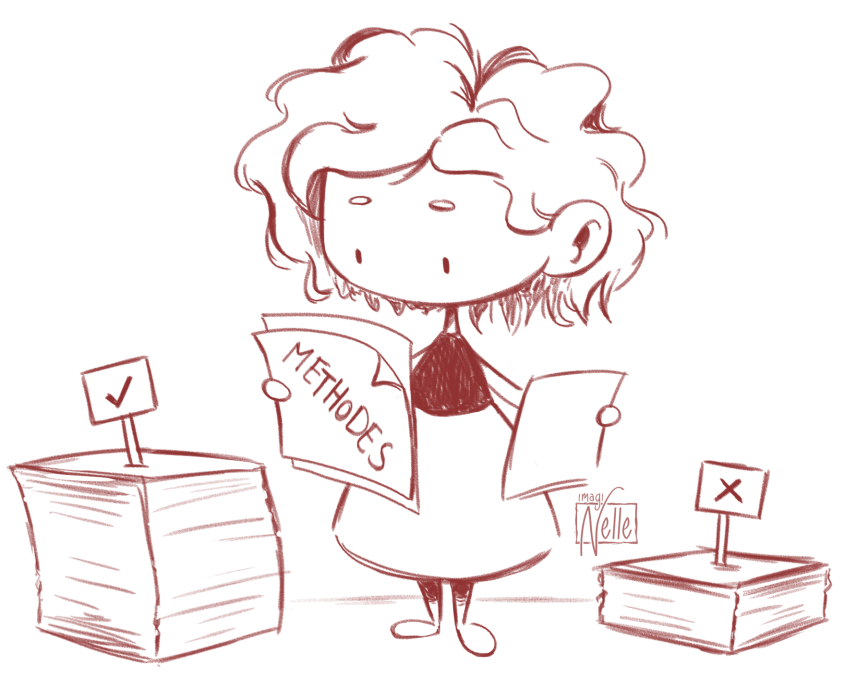 2. Experiment
Try to experiment as much as possible: techniques, materials, subjects to draw, ... Especially in the beginning, but actually throughout your entire artistic journey.

By experimenting you keep that itch going, you stay motivated, you renew and broaden your view, and you build up a lot of experience and new skills. You may even discover things and you think: "darn, if only I had known that earlier ...". Or who knows, for example, you might discover a new kind of material that suits you much better than the ones you have been using until now.
3. Start at the beginning
Don't focus on those big and complex illustrations for now, you will get there. Practice at first with simple characters, simple shapes, ... and build up from there. Look at the world around you (or use reference material such as photographs), and try to really look: what shape(s) does the object have? How does the light fall on the object, and where do the shadows fall? And what happens to the shadow(s) when the light moves? What happens to the perspective when you hold the object differently, or place it farther away?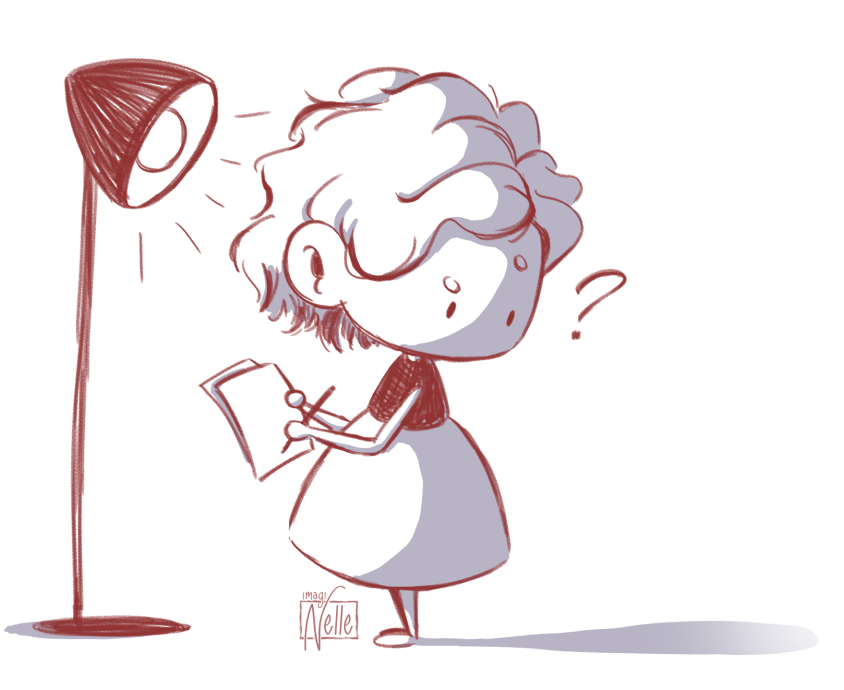 These are some examples of things you need to consider while drawing and take time to understand and practice: the fundamentals such as anatomy, composition, perspective, light and shadow, ... As you become more proficient with the fundamentals, you can raise the bar just a little bit higher each time.
4. Sketches
Use loose sketches to get your first ideas on paper. When sketching, try not to press (hard) on your stylus (drawing pen for digital drawing) or pencil, but sketch lightly and from your arm instead of your hand.

Use a soft pencil if you like to work with pencil and paper (e.g.: a pencil with hardness 2B, B or HB). That way you avoid frequent erasing and can still easily correct mistakes. Are you satisfied with your sketch? Then you can press a little harder or use a harder pencil to further refine your line work (e.g.: a pencil with hardness 2H to 9H).

Even in digital drawing, you have control over the pressure sensitivity of your stylus when drawing with a tablet. The degree of sensitivity with each brush is even adjustable to your own preference. Super convenient when sketching!
5. Build up your drawing step by step
Don't immediately rush into the details. For example, when sketching a head, don't start with one eye that you immediately finish in detail and then work on the second eye. First draw out the broad outlines of your figure using simple shapes and planes. Make sure the anatomy and perspective are as correct as possible before moving on to details, because later in the drawing process it is more difficult to correct these mistakes. For example, when drawing a head, first start with a circle for the shape of the head. Draw a triangle or an oval to have an idea where the nose will be, small circles you can use for the placement of the eyes, ... Once the base of your figure is right, continue to refine your figure step by step and you can start adding details.

6. Watch and learn from your idols
Do you have an artist you really look up to, and often think, "oohh, if only I could ..."? That's still a daily occurrence here too :)
You can learn a lot from them. I follow many artists through social media and therefore get in touch with their artwork every day, picking up something new each time (consciously and subconsciously). I also use Pinterest to collect my favorite artwork, from my favorite artists. I often turn to that for tips and inspiration, and each time I learn something new.

Would you like to study and practice their way of drawing and methods? Then you can learn a lot by copying illustrations from them. Copying is okay, but don't calibrate. By copying you force yourself to think about the drawing process yourself, the shapes they use, ... Calquering can be fine as a way to relax, but in the end you learn little from it.

Have you copied an illustration and would like to post it online and show it to your family and friends? Sure! But at least be sure to mention the creator of the work you based your drawing on. Or, even better, ask the creator's permission if you can use their drawing for practice and post it online afterwards. Most artists will have no problem with this, but it is polite to ask first and it shows a lot of respect :)
By the way, this is an extensive topic on its own in the art community that I will explore a bit more in a future blog.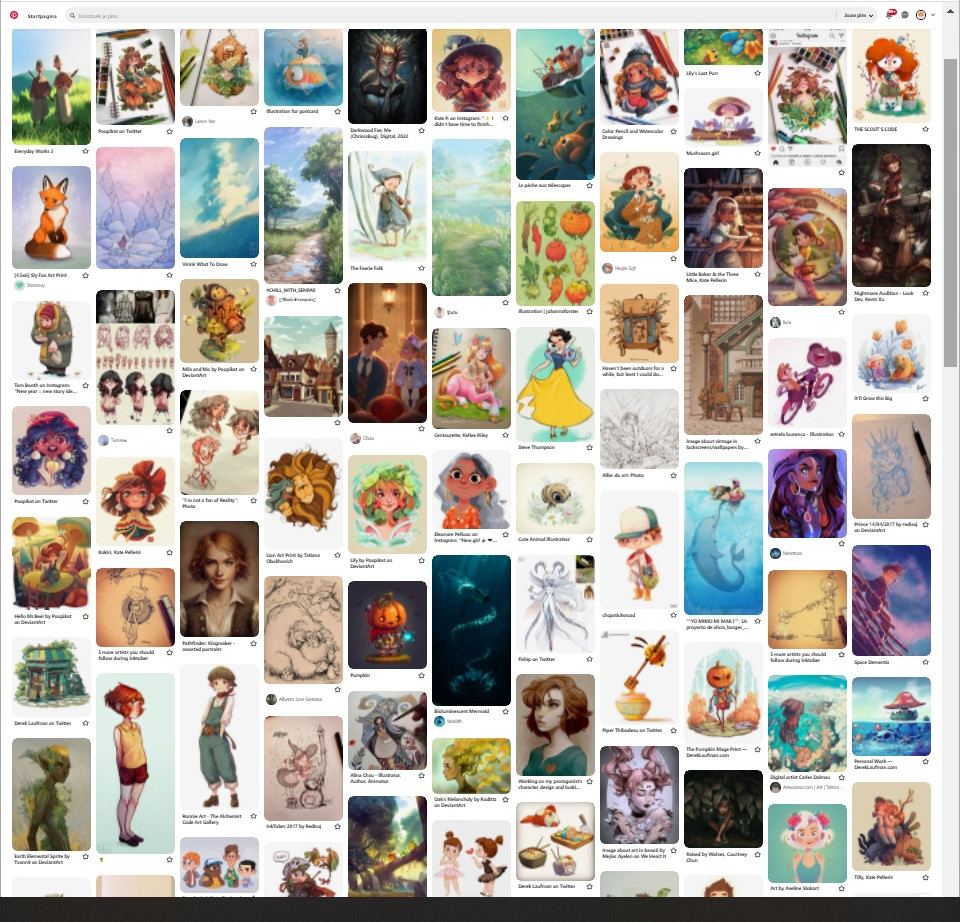 One important note I do want to make here is: beware of the trap of comparison. Many of us tend to consciously or unconsciously compare ourselves and our artwork (or any other aspect of our lives) to (that of) others. And social media reinforces this phenomenon more than we think, to the point where you may not even have the courage to start drawing because you think others are doing so much better than you.

Never forget that the artists you look up to have undoubtedly been working for many years to reach the level where they are today. Everyone has to start somewhere and it doesn't come naturally. Comparing your drawings with others is good for learning and improving yourself, but don't get lost in this and don't get discouraged. You will get there too! For example, compare your work with your own older work. Bet you've made progress. Practice makes perfect!
7. Watch tutorials
You can find countless books on how to learn to draw. And thanks to the digital age, there are now also so many online tutorials available (free or otherwise) that can already go a long way in getting you started in your artprocess, especially if you are somewhat familiar with English. Some examples:
Think of tutorials on YouTube. Who knows, maybe your favorite artist has a YouTube channel? With the right search terms, you can spend a few hours on YouTube.
When I started drawing digitally several years ago, I used Schoolism, an online "school" where you can choose from a variety of courses offered, which you can take at your own pace and which allows you to learn from real professionals.
Some artists also use Patreon, which allows you to take advantage of their digital offerings for a small monthly fee, ranging from behind-the-scenes peeks to in-depth tutorials.
I personally haven't tried it yet, but I also hear a lot of good things about Skillshare. This is also an online learning platform that works with subscriptions and allows you to take online courses at your own pace. Not only illustrators, but also a lot of other creative people will find something to their liking here.
8. What if you struggle with fear of failure?
Does the fear of failure make it almost impossible to put even a first line on paper?
Or maybe you suffer from 'fear of the blank page'? This is similar to "writer's block" in writers. That blank page in front of you seems so frightening and overwhelming, there are so many possibilities that you don't know where to begin ... and therefore often don't get started.

From my own experience, I know very well what both types of anxiety feel like, and occasionally I still struggle with it. What works well for me is actually simple (but not really :)): just do it! Put that first line on the paper. Doodle a little, draw some circles, squares, loose lines, ... Draw whatever comes to mind, whatever flows from your hand. It doesn't have to look pretty, there is no one who needs to see these doodles but you. Who knows, maybe something will flow out anyway, you'll get inspired and think: "hey, I can do something with this!". Not satisfied with the result? No problem! Tomorrow you can try again with renewed confidence.

The more you draw, the more experience you gain, the more confidence you gain and the easier it will become to get something on paper each time.

By drawing a lot and often, I find that I'm not so bothered by this fear anymore. By making a habit of drawing (almost) every day, the itch stays in my fingers and I don't give the fear (and the procrastination that results from this) a chance. When I haven't drawn for a few days, I find that it's harder to start again, and the anxiety threatens to take over again. Try drawing something (almost) every day. It doesn't have to be long, fifteen minutes or half an hour can be enough. Try to make it a habit. Don't have much time? Put a small sketchbook in your bag that you can pull out at a quiet moment on the go. Do you really not feel like it or just really can't do it today? Don't force yourself, and do something you love to do. Tomorrow is another day.

9. Don't worry about an art style
Many artists often struggle for years to find their own unique style. This is an extensive topic that I will save for next time, but I want to mention it very briefly here anyway. An art style is something you don't need to worry about yet, especially in the beginning.

It is more important to gain experience and skills first by experimenting. Start with the basics, learn, practice and discover. Draw what you like to draw and try to improve. From there, your art style will gradually begin to develop itself.
10. HAVE FUN!
And finally, perhaps the most important one: HAVE FUN! You will get the most out of all those hours at the drawing table if you enjoy it. There is no point in forcing yourself and focusing only on improving yourself if you don't enjoy it. Take your time, schedule plenty of breaks, draw what you enjoy drawing or want to learn to draw. You will only really improve when the joy is there.