Okay, time to have a chat about perhaps the most frequently asked question in the community!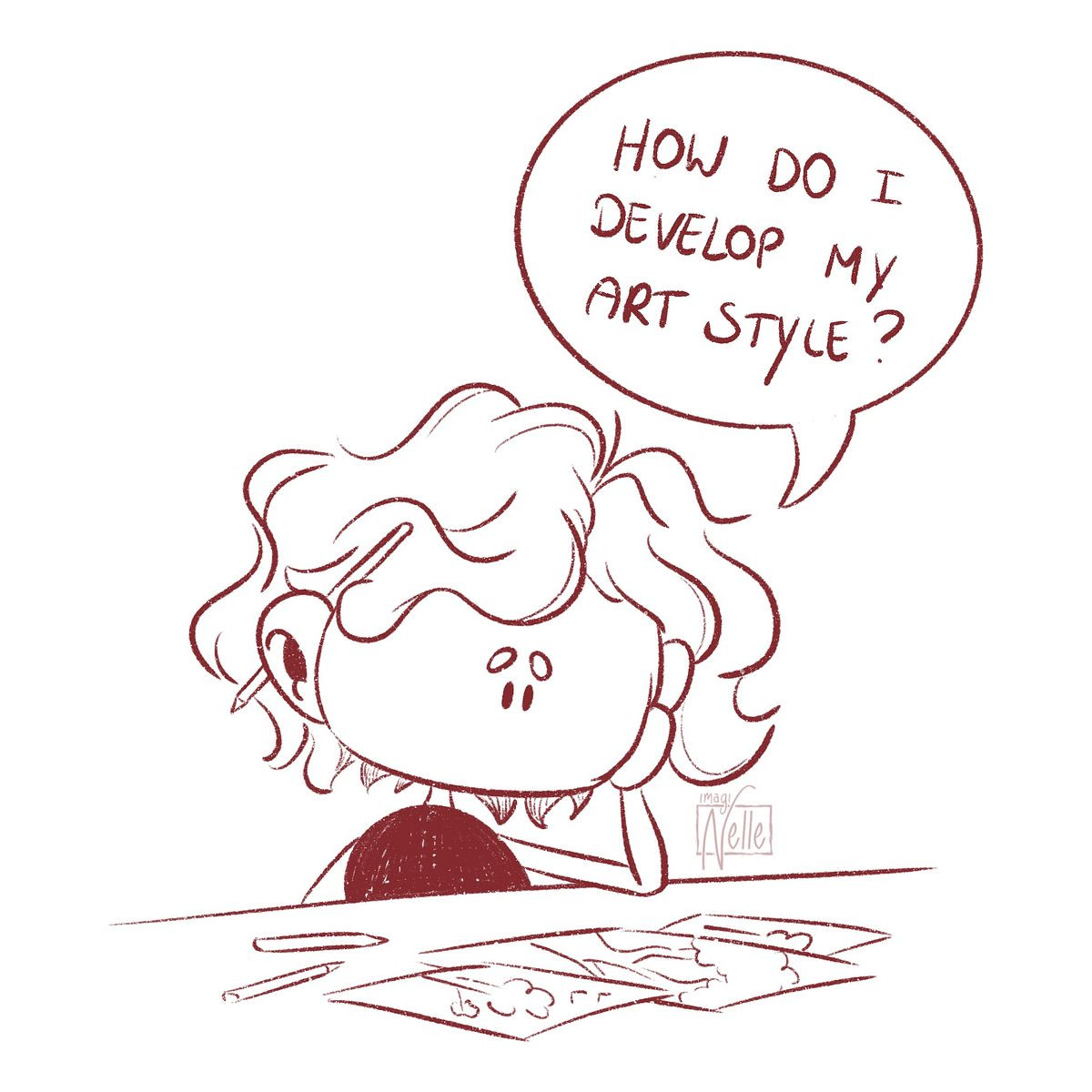 'Art style' is something that concerns many (beginning) illustrators. And very understandably so. As an illustrator, you want to find your own "me" in this big community, among all those other illustrators and among all those artists you yourself look up to so much.

Especially as a beginning illustrator (but actually throughout your whole artistic life), you are looking for your artistic individuality. You want to express yourself artistically, in a way that feels right and natural to you, and where everyone can immediately distinguish your work from others.

However, many beginning illustrators run into the feeling that they don't have a art style (yet), or at least not one that they themselves are satisfied with. And that is very normal. Because an art style actually develops over time. And to some extent you can push it in a certain direction. But how?

In this blog I tell you more about art styles, how and when it develops and what you can do yourself to develop it (further)!

---
What is an art style?
Art style has no set definition. For some, it is mainly 'technique', for others 'the way you draw something'.

In my opinion, an art style encompasses the combination of these and also other aspects:
the way you draw something
(cartoon, stylized, semi-realistic, realistic)
characteristic colors
(bright colors, soft colors, saturated or unsaturated, earth tones, ...)
technique
(rendering, cell shading, ...)
line work
(thick, thin, smooth, rough, wavy, angular, ...)
current skills
(beginner, practized, advanced)
the materials you draw with
(digital or traditional)
taste
("beauty is in the eye of the beholder"- Margaret Wolfe Hungerford)
inspiration
(other artists, nature, fashion, film, music, ...)
themes
(for a younger audience, for adults, fantasy, steampunk, horror, pin-up, ...)
what you want to tell
(the story and emotions)
That seems like a lot, but it's actually not that much. Because often something from this list is the result of something else from the list. For instance, the way you draw something will be the result of your taste, your techniques and, to some extent, your current skills. The technique you use partly depends on the material you draw with. Your inspiration is influenced by your taste (and vice versa). Etc.

Some things on the list you can influence, such as the technique you use, your materials, your use of color, the way you draw something. Other things are more instinctive: your taste and inspiration, what you want to tell. In my opinion, it is precisely these instinctive aspects of an art style that make it truly 'unique'.
---
How and when does my art style develop?
I once heard the expression: "You don't have to look for your art style. Your art style will find you."

Largely, I agree with this. The more you draw, gain experience and learn, the more your own style will manifest itself (often subconsciously).

The more eyes you draw, the more you will start drawing your eyes a certain way. You will be inspired, learn new techniques and find new ways to draw an eye. Gradually, you will notice (perhaps subconsciously) which technique and which way of drawing eyes feels most natural to you and which appeals to you most instinctively.




Still, you can influence your drawing style to some extent and push it in a certain direction. After all, you gain a lot of knowledge and techniques by watching others and studying reality. You get inspired. You look up to styles that really appeal to you instinctively. So it is not illogical that you adopt them to some extent, often with the thought: "I like that so much! I want to be able to do that too!". Especially if you are not happy with how your current art style looks at the moment and actually want to change it.

But how do you do that?

---
How can I help develop my art style?
You can give your art style a helping hand.
1. What you can do is to create a collection of drawings you really like. You can do this by using Pinterest, for example, or create a folder on your computer.


2. Look at some artists you look up to and choose a few of their works. Try to limit yourself in this (max two per illustrator) and choose purposefully.


3. Finished? Now look at each drawing: what about it appeals to you? Is it the way the illustrator draws characters? Is it the cartoon style, stylized or realistic style? Is it the use of color? Is it the atmosphere? Is it the level of detail? ... Really try to analyse. Do this for each drawing and write it down.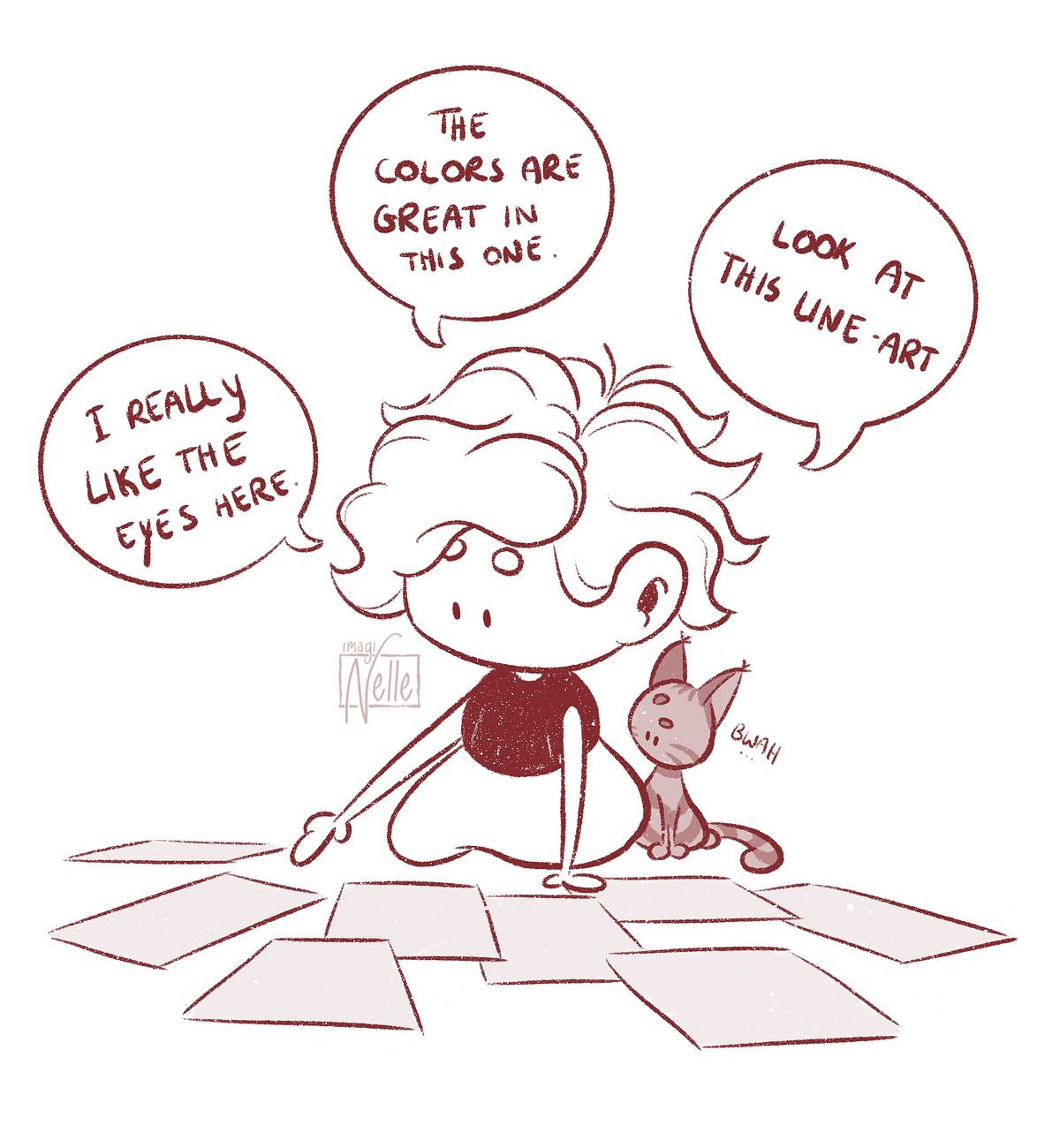 4. Now that you have filtered out the different elements, you know what makes the drawing so appealing to you and you can start implementing this more in your own work, without literally copying. Try drawing a similar character. Try that kind of eyes. Practice on that beautiful way of drawing lines. Try a similar color palette. ...

Of course, it's possible that you really like several styles, and you can't choose between, for example, what kind of eyes you like. Then try them all and see what feels right.


5. That works? Then put away your sources of inspiration, and practice "blind". Draw what you have learnt, but now let your heart speak. Let your heart put its own spin on it. And keep practicing with this.


Look, practice and experiment. And most importantly: take your time with this. Don't expect it to look exactly as you hoped from the very first drawing. Something like this takes a lot of time and practice. Actually, the more you practice and over time start looking less at your reference material, the more your own style will shine through.
---
But... Can/may I have more than one art style?
Of course! There are many people who have multiple art styles. Some specialize in one particular style, while others have a broad spectrum and can draw in different styles. The advantage of this is that you are more broadly applicable when you take on commissions.

But - above all, you should draw what feels right for you! Drawing is primarily something you do for yourself.
Do you want to specialize in one style? Great! Go for it! You'll become so good at that particular style and your work will be very recognizable to your audience.
Happy to do this style now, but want to try a different style later? Great! You'll become flexible and versatile!

But above all: let your heart speak and draw what you want! 🧡
---
Keep in mind
An art style does not develop overnight.
It can often take years before you see your own art style shining through (sometimes others see it even before you do). Be patient and practice as much as you can. It will come.

For me, for instance, it took a very long time before I started to recognize my own style in my work, and even longer before I was satisfied with it.
In part, it developed on its own. Some things feel so natural and flow out of my hand, so to speak. But on the things I wasn't satisfied with, I have spent a long time practicing, learning from others, gaining inspiration, learning new techniques, and trying to put my own spin on it. The combination of those "natural things" and those "inspired things" eventually became my style.


Realize that your art style can change over time.

We keep learning and gaining new experiences all our lives. Our tastes change. And your art style changes with it. Sometimes consciously, sometimes unconsciously. And that is perfectly normal.

When I started, my art style looked very different from what it is now. I myself struggled with my art style for a long time, I did not know which way I wanted to go, I saw so many great styles and wanted to be able to do everything. But finally (after years :)) I felt I just had to follow my heart, draw what feels right, and see where I would end up. And now I'm at a point where I feel good about my style. Maybe I'm not 100% satisfied yet (maybe I never will be), but I do feel I'm getting closer and closer to that point.
I do still try new things regularly, keep improving myself and am open to new challenges. And I know that my style will probably look a bit different in a few years' time. But as long as it feels right and I stay true to myself, I can say, "that's my style, and proud of it!" :)