After a longer break from blogging, a lot of thinking about the future of ImagiNelle and an update of my website/portfolio, I thought it would be fun to take another look behind the scenes for my return-blog. This time I would like to take you on a journey through time. Or rather: through my nostalgia box!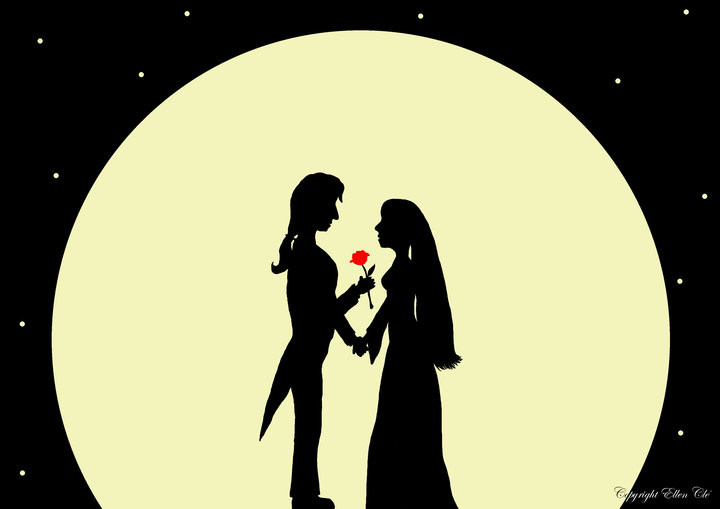 During my reflection, I took a closer look at my drawing style and drawingmethods. I caught myself thinking back to those old drawings in that deep and shameful corner of my closet, and how much my drawing style has changed over the years.

Therefore, and because laughter is good for your health, I couldn't contain my nostalgia urge any longer, and I've kept you guys waiting a long time for it, I finally present to you, with much pride and shame: Ellen's drawing adventures, from past to present!

Since my nostalgia box is quite large, and I noticed halfway through writing this blog that it was getting rather long, I decided to split it into two parts. Part 1 goes all the way back in time and mainly focuses on my very first steps into the drawing world, black holes and a first toe into the digital drawing world.
After that first toe, you'll soon find out in Part 2 how I stumbled on with both feet, deeper into the digital drawing world to where I finally am today. And believe me: there was a lot of stumbling in my time.

But let's start with part 1! To the beginnings of little Ellen and her first imaginary characters.
Oh, and chuckles are allowed.

---
Floating hairdos

It all started with my birth (duh), but more specifically: with my father.
My father has always been an artist, and a very good one, let me tell you. He didn't really draw actively during my childhood, and not as a professional, but I did inherit the drawing-bug from him, as we like to call it. I always looked full of admiration at his realistic portraits and paintings, and the way he drew his pies when he had to explain something math-like to me once again (no kidding: those beautiful flowing pencil lines in the pie circles always fascinated me so much more than what the pie actually had to explain).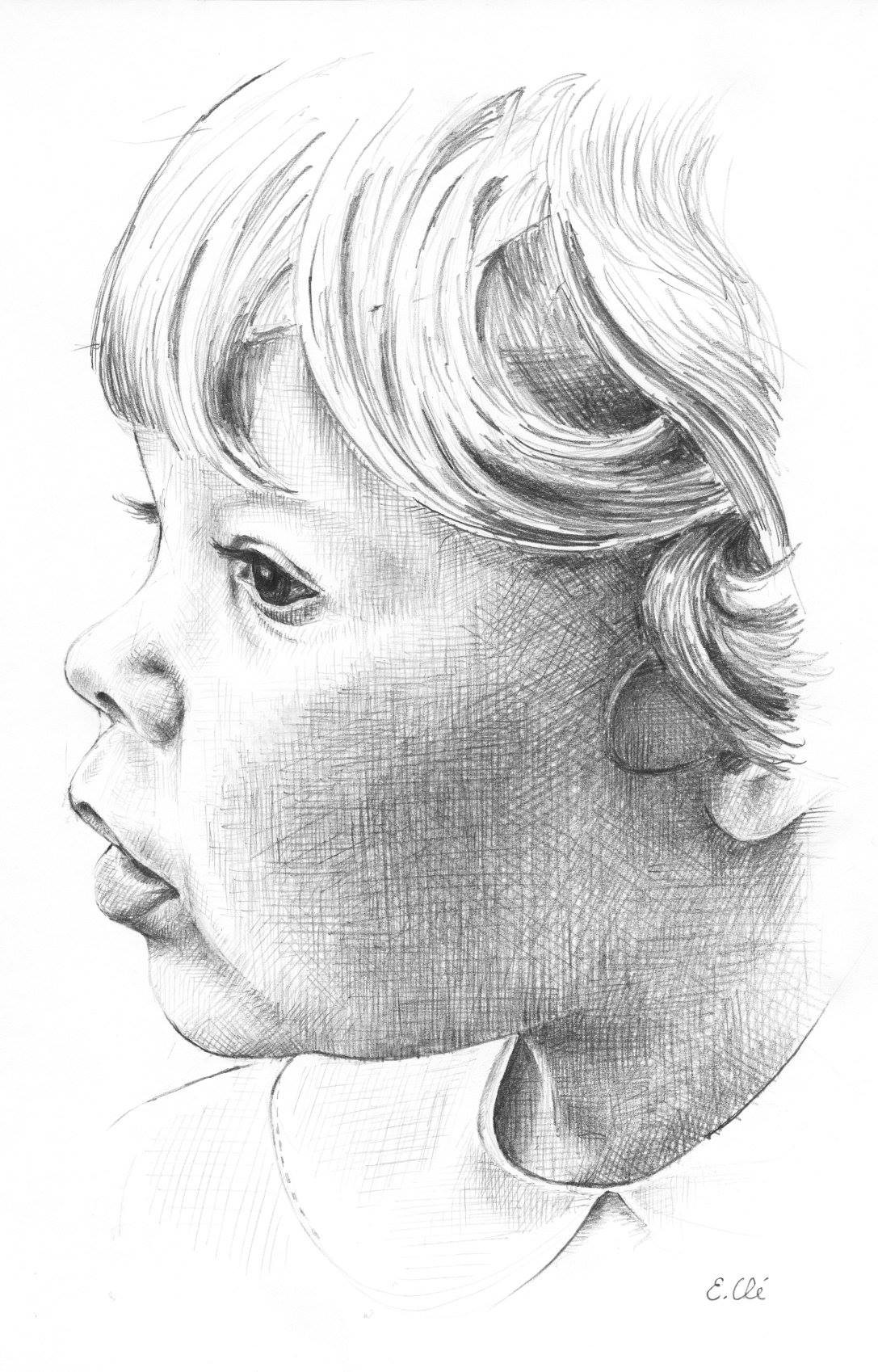 My father soon saw that I also had a bit of a gift for drawing. Supported by both my parents, I started taking steps into the world of drawing from an early age.

At first mainly passively, such as devouring (not literally) many comics (mostly looking at the pictures, as you do). I was especially a big admirer of the Belgian comic books of Suske and Wiske, Jommeke, Kiekeboe, and Piet Pienter and Bert Bibber.
When I wasn't immersed in comics, you could find me in front of the TV staring at (sometimes the same) animated movies several times a day. Mainly the classics from Disney, like Snow White, Beauty and the Beast, The Little Mermaid, ... We had them all (or almost all of them) and I've seen them all at least twenty times.

Inspired by my many inspirations, I gradually began to draw as well. I no longer have any examples from this time - my mother was allowed to dump this box of shame on the paper pile a while ago - but no doubt you can imagine what it looked like.
Very weird Picassos, headfoots, stick figures, floating hairdos, barely within the lines, ... I could do it all!
---
The adventures of...

Until one fine day, and I have no idea how old I was then or where the impulse suddenly came from, I got this bright idea to make my own comic book. What Willy Vandersteen, Jef Neys, Merho and Pom (all Belgian comic book authors and illustrators) could do, so could I! How difficult could it be?

And so I set to work on my scrap paper: drawing crooked boxes (because rulers are for wimps), numbering my pages... there's still something missing... Oh yes, perhaps I should also invent a main character, one with a cool heroic name, of course. A name that sounds good with the name of my series: 'the adventures of...'. Being original was totally my specialty. Making up names, unfortunately, was not. I even had to enlist the help of a thick book my parents had lying around filled with surnames (no idea why they had it, or what it was called, but I remember flipping through it for hours looking for the coolest name).

And there it was! My comic book adventure series (completely blank at the time) finally had a name: 'the adventures of ... Wim'.
Cool.

My first comic 'The Enchanted Crown' focused mainly on my hero Wim and his dog Tom (I told you: originality was my specialty), who were having a crazy adventure. Literally crazy, because it didn't make much sense ...
I also did not yet have much understanding of engaging storylines, composition, body proportions, ... and so I haphazardly squeezed all the characters and backgrounds into the frames. Whether they wanted to fit or not, I would make them fit!

Curious? Behold: my very first comic book! (Sorry, it's only in Dutch, but trust me, it doesn't make a lot of sense anyway.)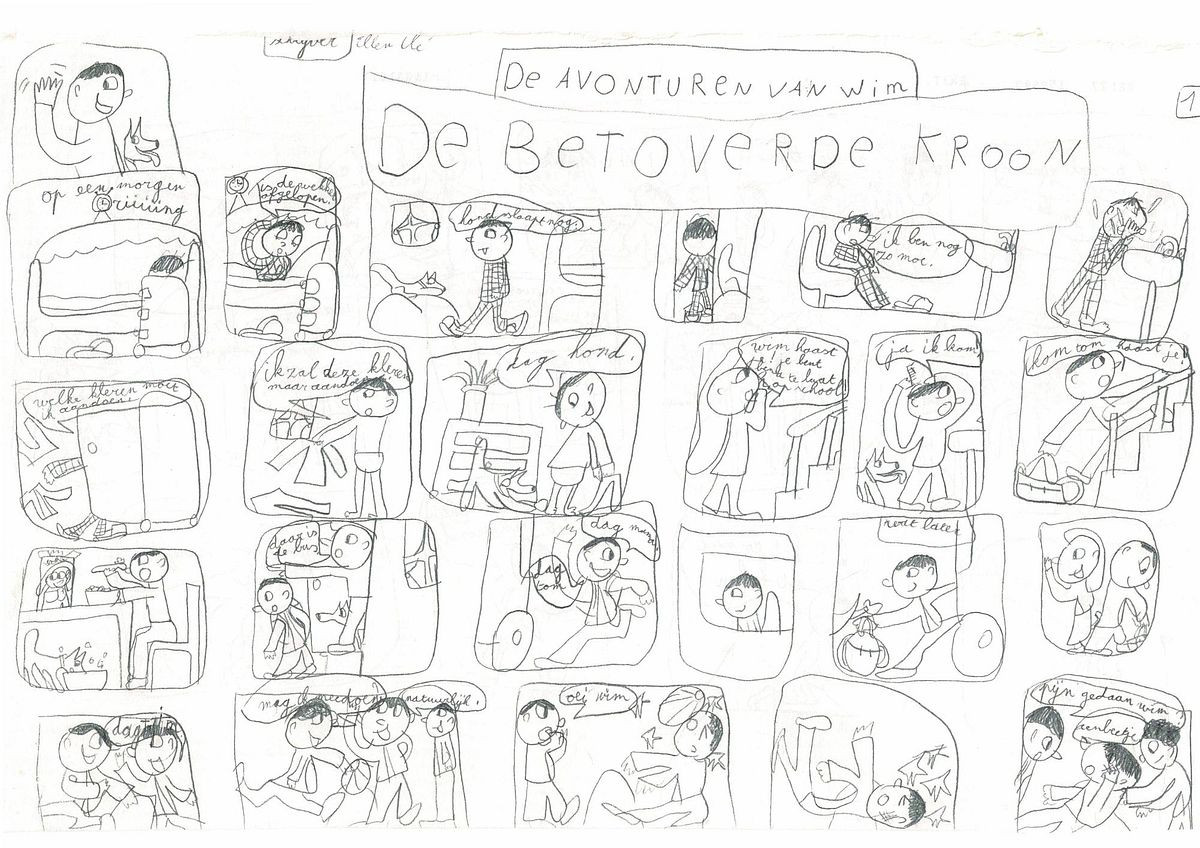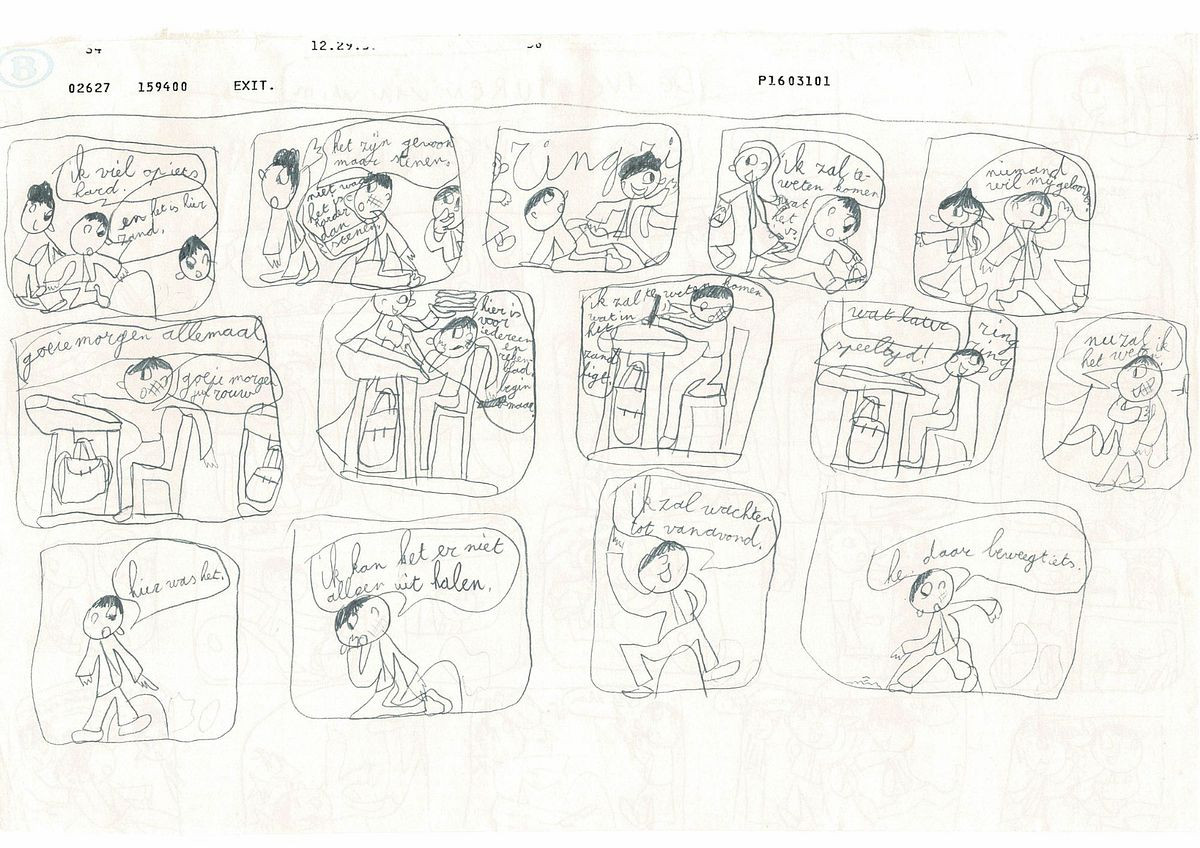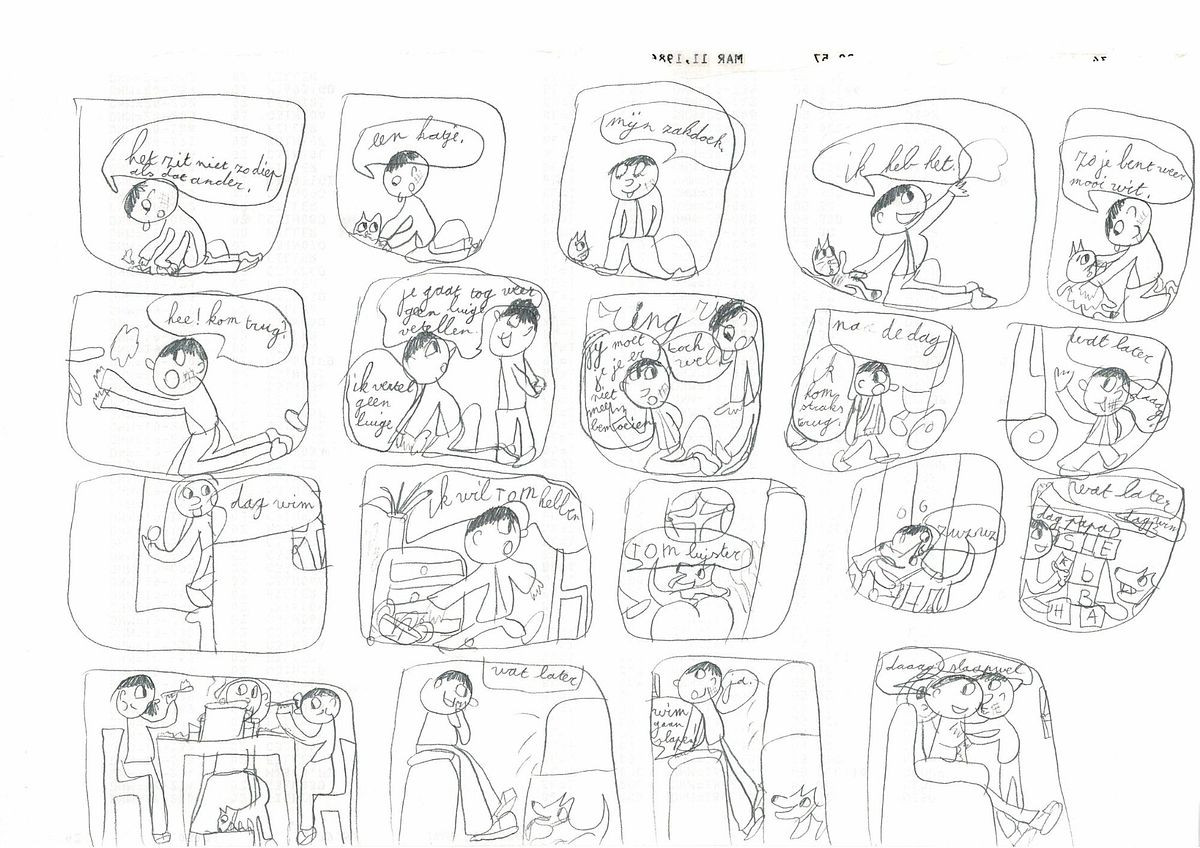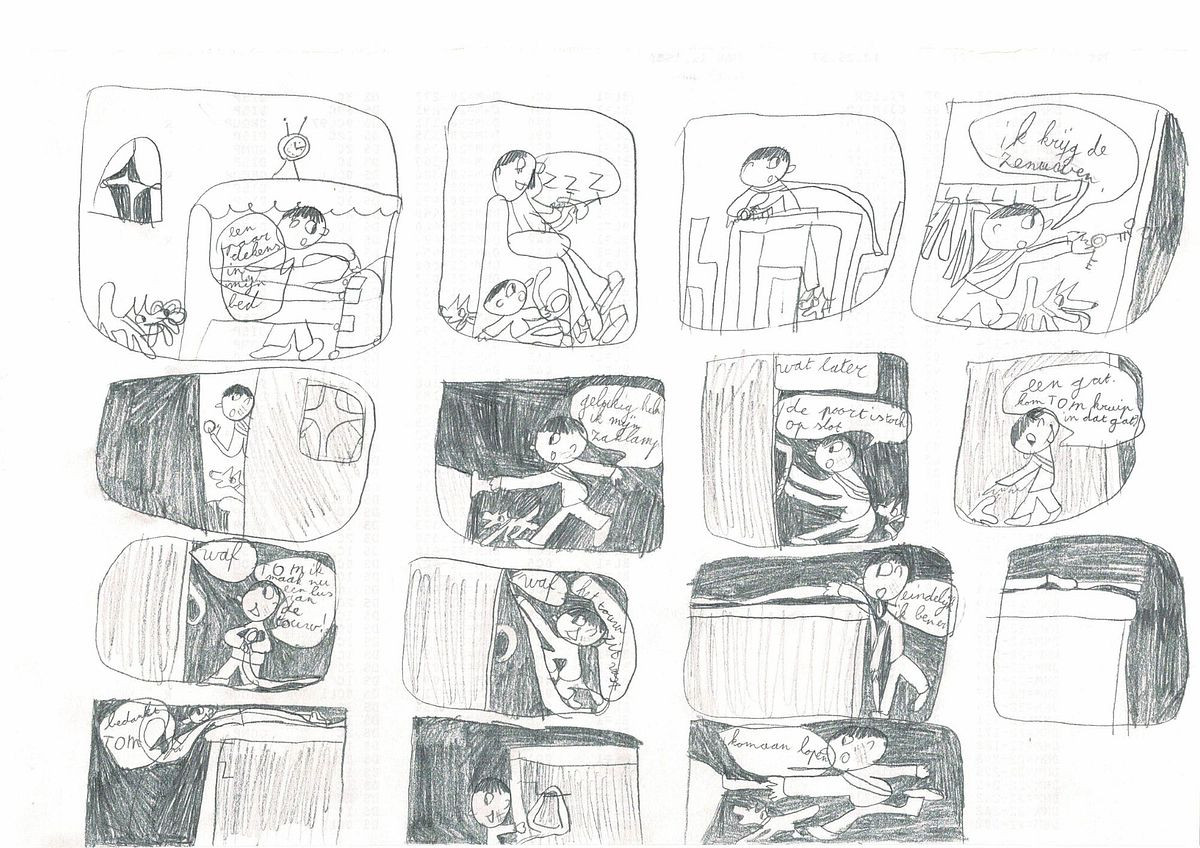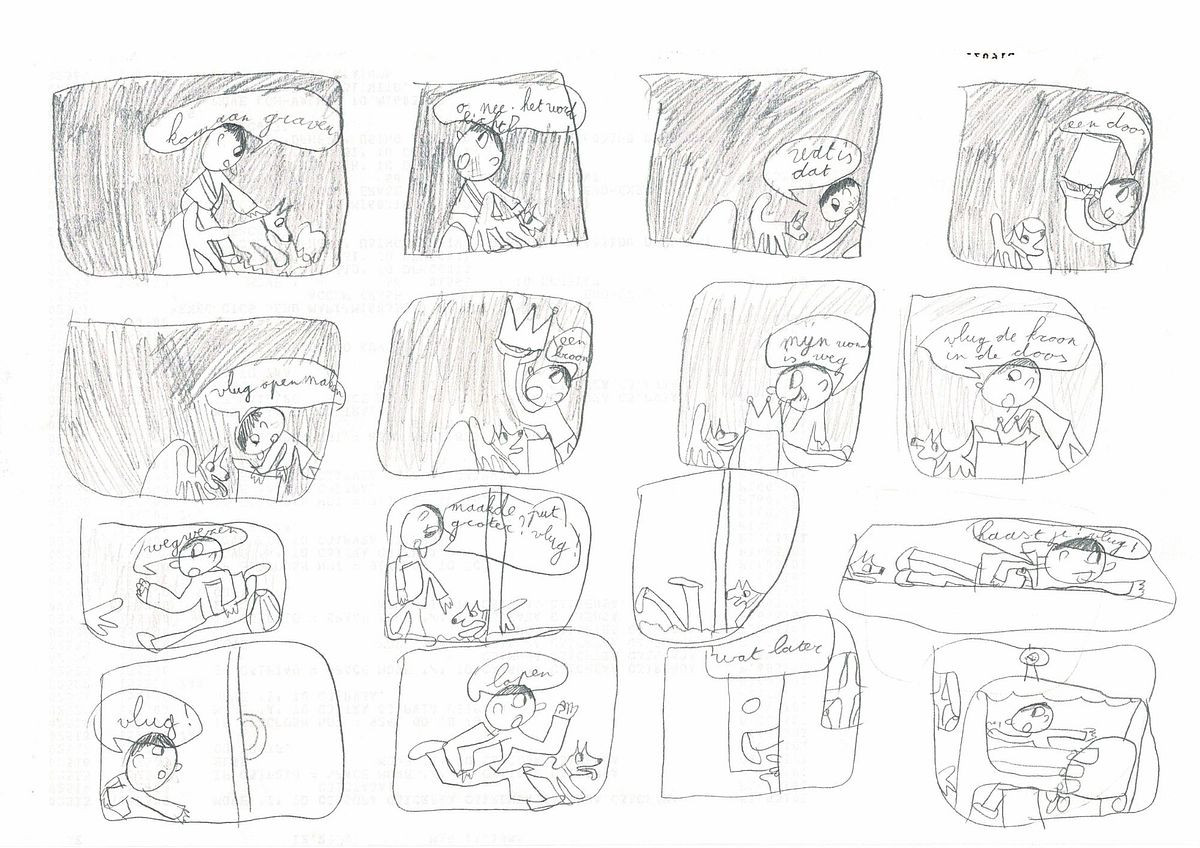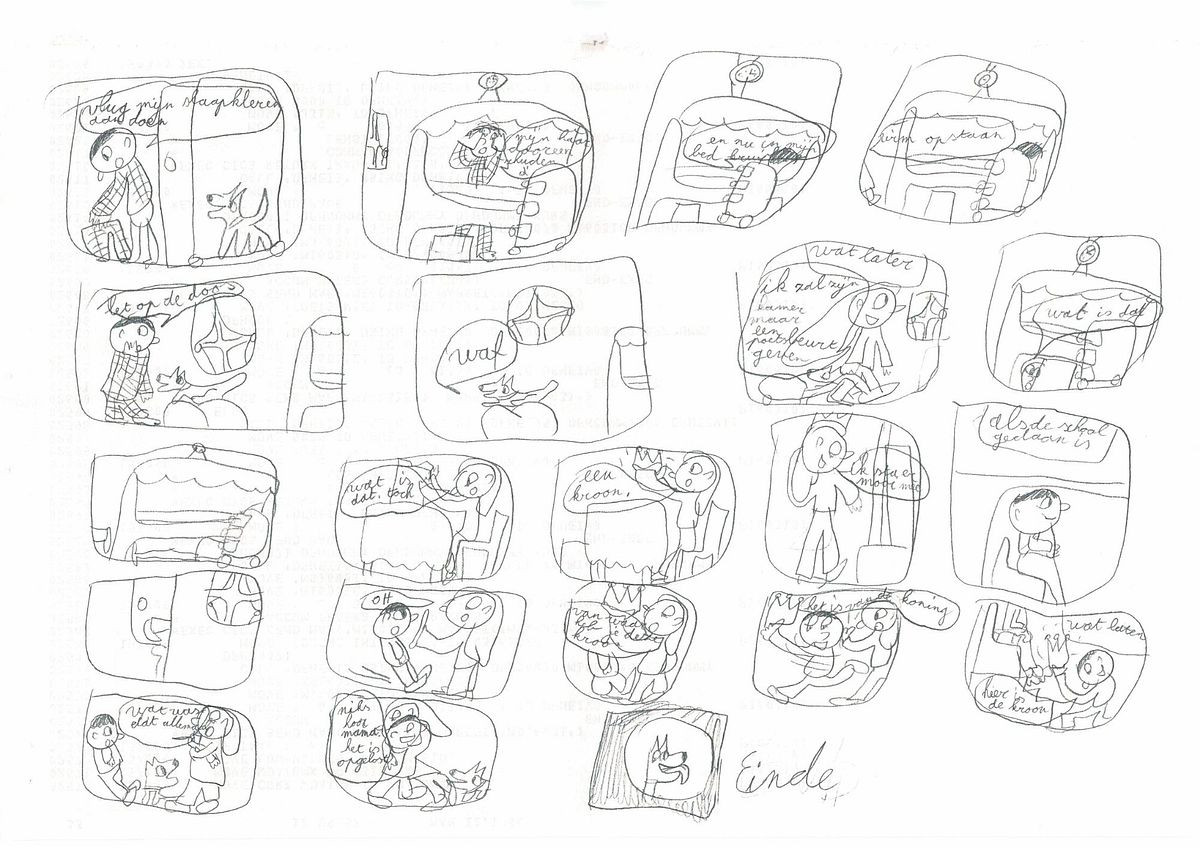 Someday this will undoubtedly be worth a lot of money. Lol.

After Wim's first adventure, I had gotten the hang of it and created twelve more Wim comics. And he even got a friend: Bram! And a parrot, of course. Oh, and a flying carpet. Makes sense! (What do you mean plagiarism?).
With the help of my father, my second comic looked even more professional: paper with "real" frames! Now I could really express my tender little drawing heart.

Showing them all might be a bit exaggerated, but to satisfy your curiosity and to give you an idea of the wild adventures he had, I am happy to show you all the covers of the Wim comics: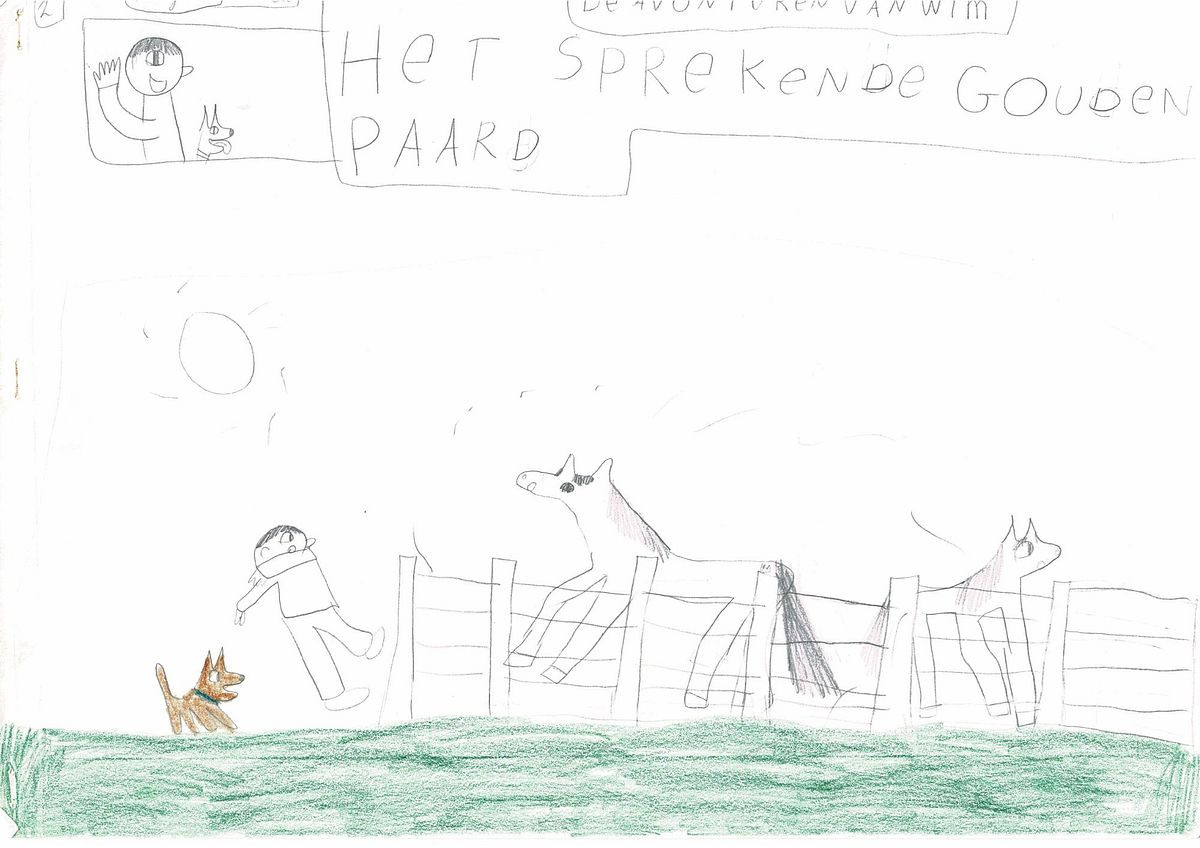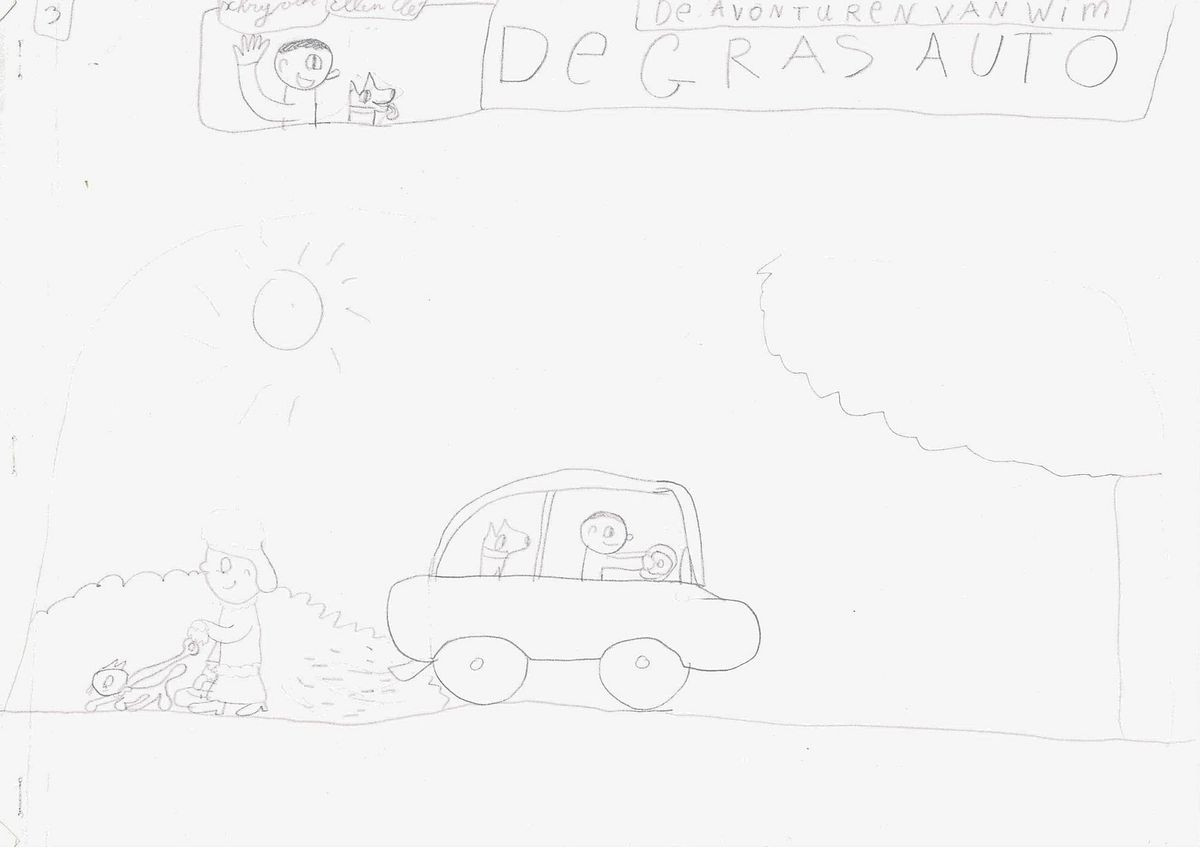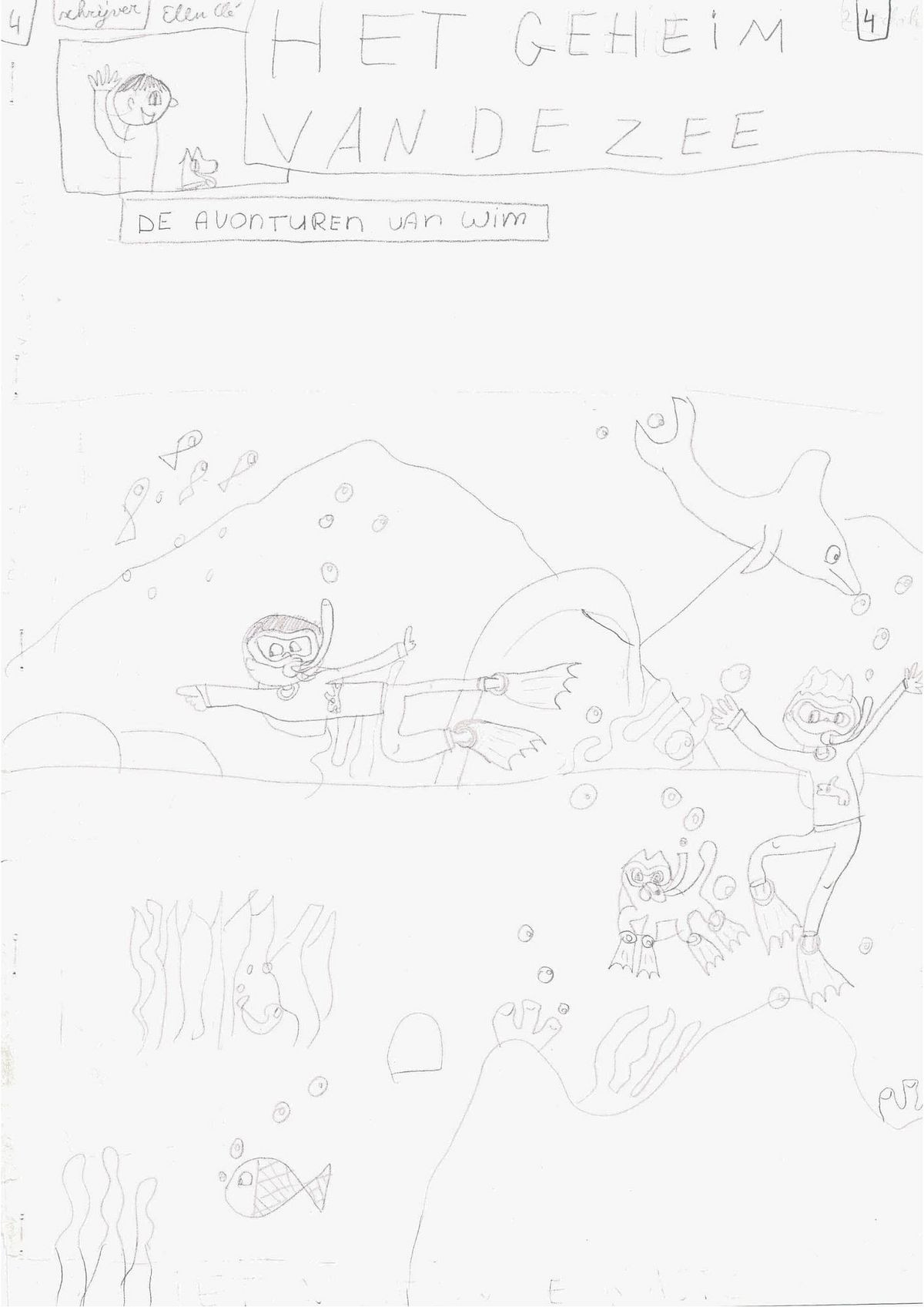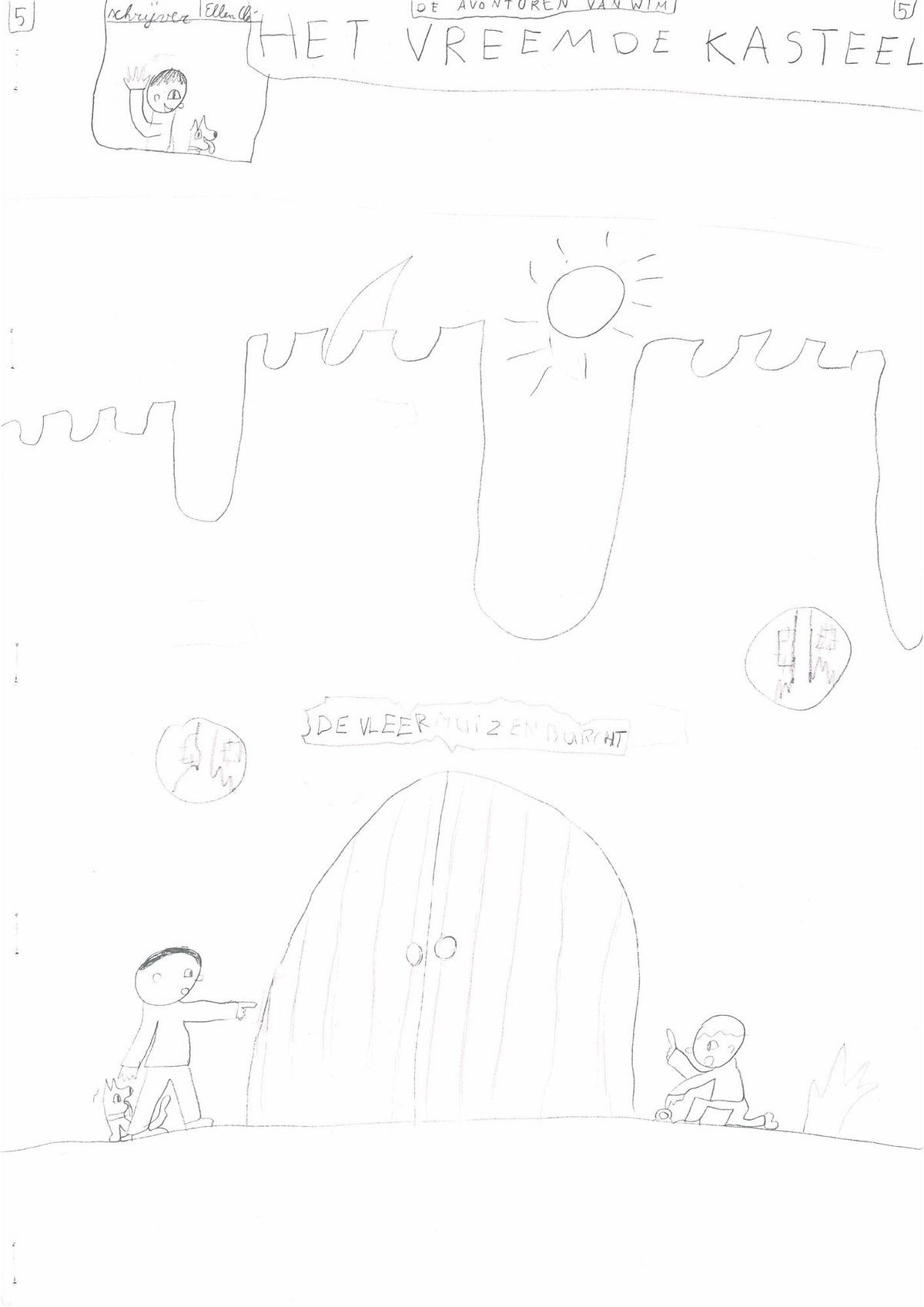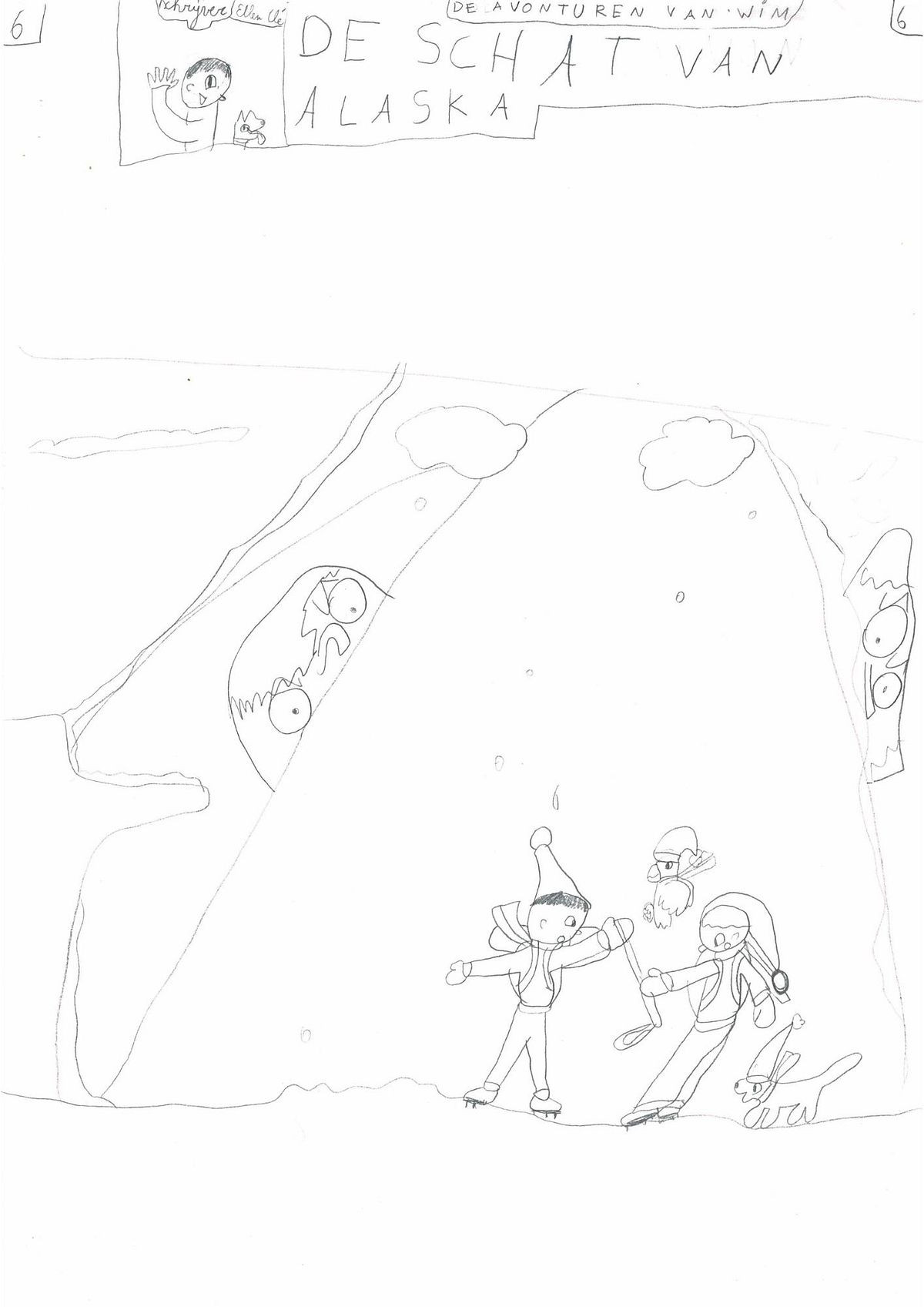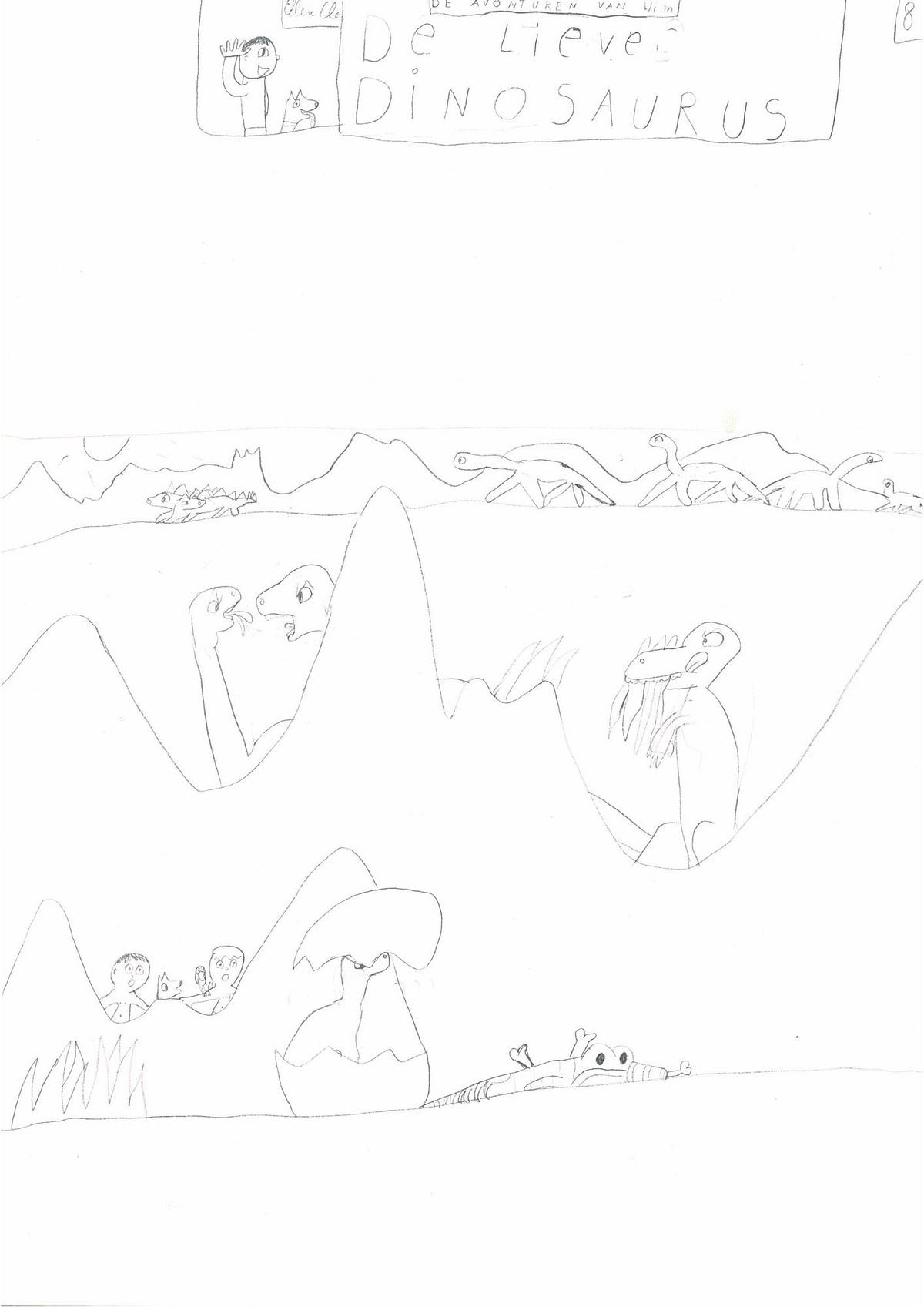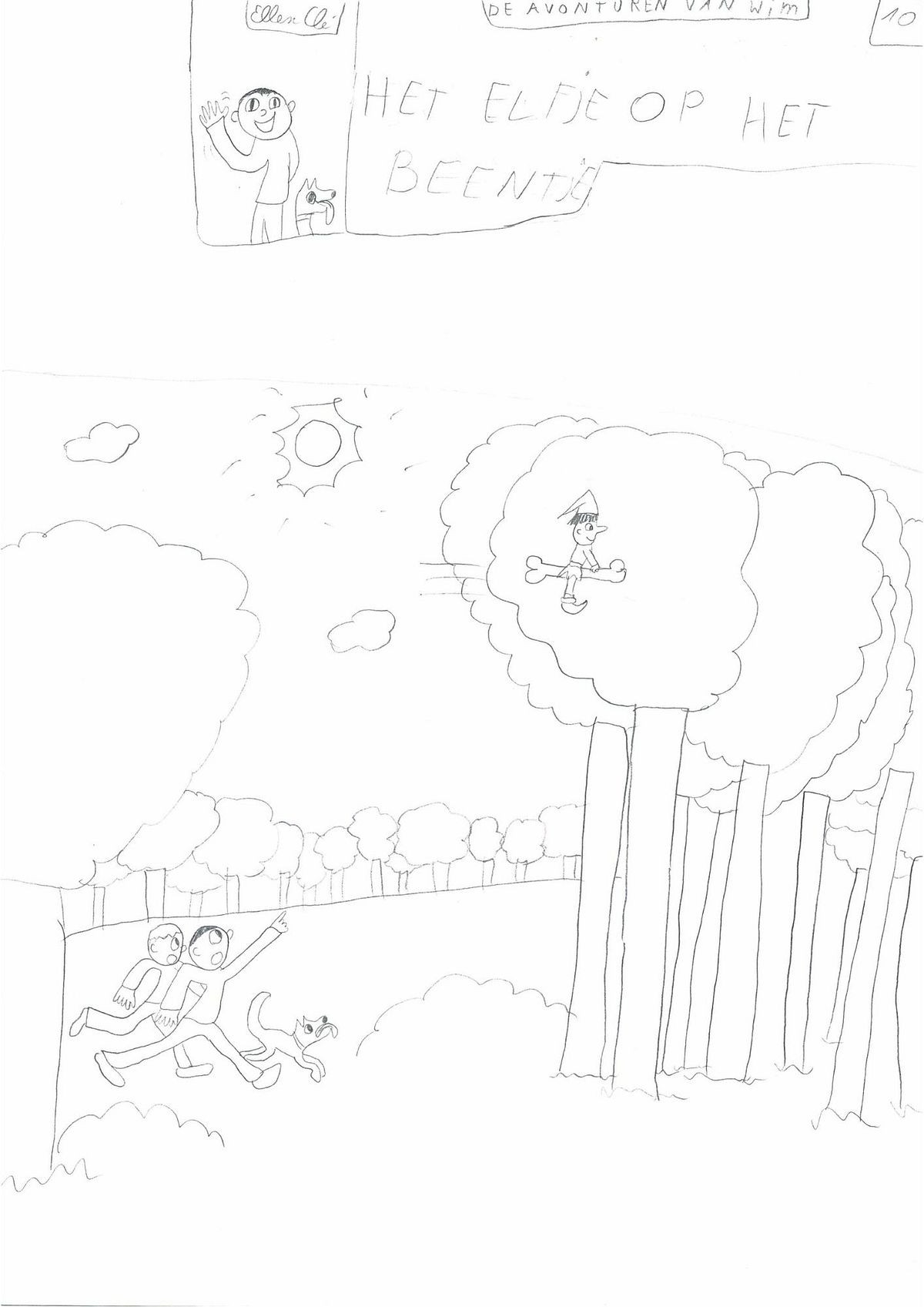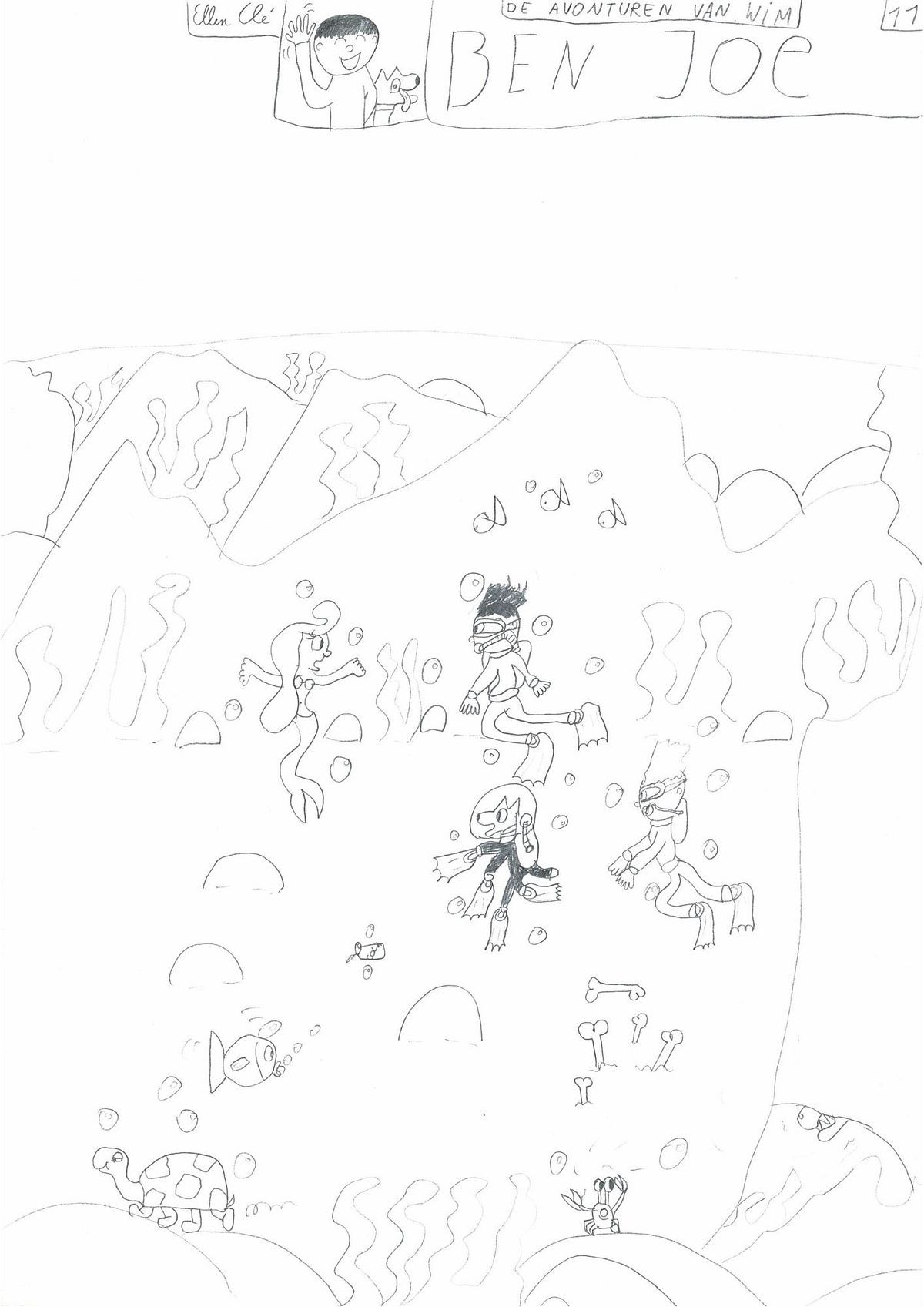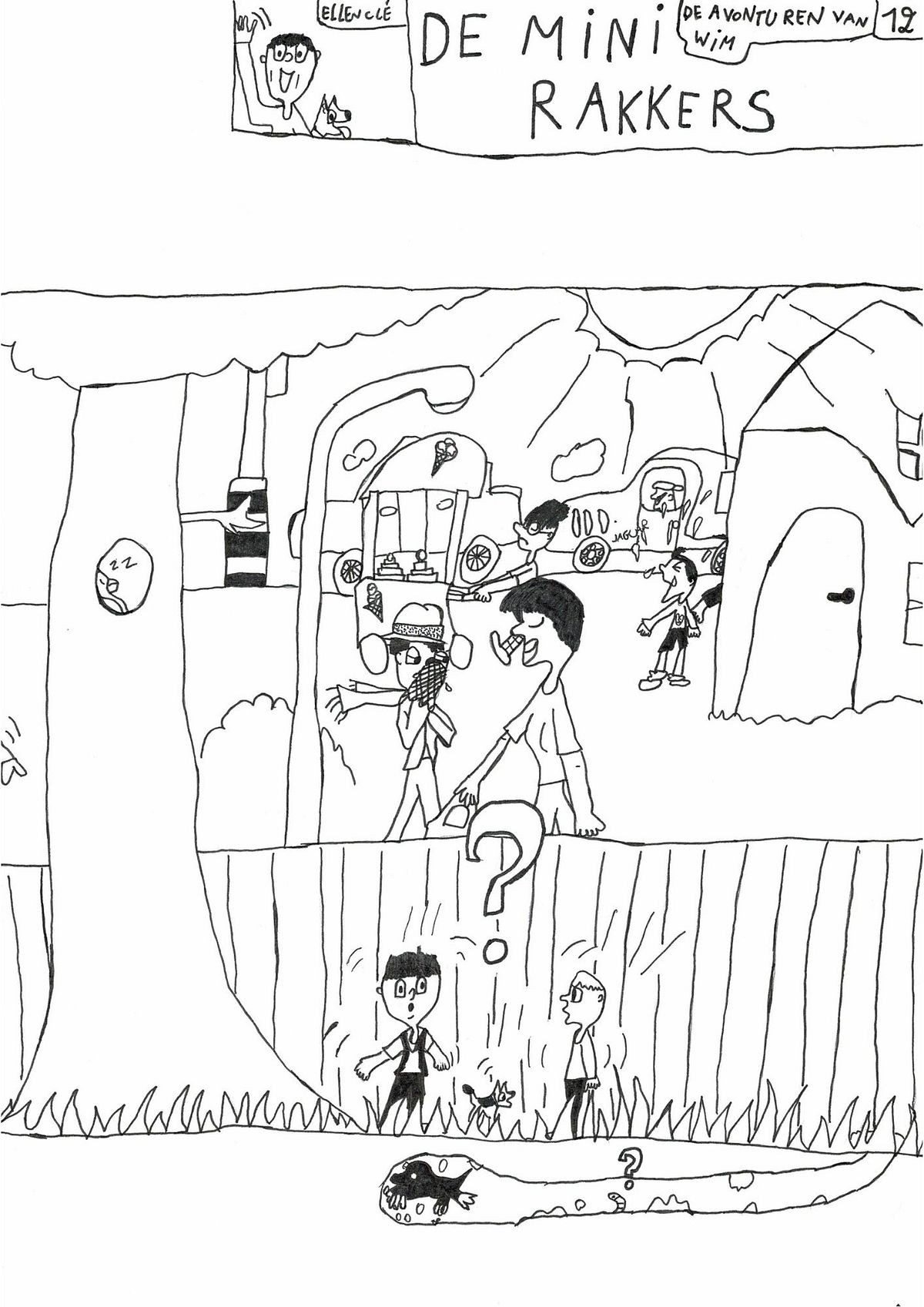 ---
Fruit bowls
I worked on the series for about two years (I think), and somewhere halfway through I also decided to start drawing school. To learn how to draw my cartoon characters a little more decently.

I ended up attending this for only two years (maximum three, I don't remember exactly), because given my age, the main focus was on crafting and learning about different materials. For little Ellen, however, this wasn't nearly enough, I didn't want to draw still lifes with fruit bowls. I wanted to draw comics and cartoons! Little men, adventures, letting my imagination run free, drawing what I wanted, ... and unfortunately that was not (yet) possible. And apparently I also didn't have the patience to wait for that (or grow towards it) and so I stopped pretty soon.

I would do it on my own!

---
Studio Vandersteen
My parents supported me (and still do! ❤️) through thick and thin. As an extra motivation and push they did something I will never forget: my father wrote a letter to Studio Vandersteen, the spiritual father of Suske and Wiske, one of the most successful comic book series in Belgium. Paul Geerts, Willy's successor, was at the helm at the time, and his Sus&Wis-books were one of my biggest examples.

In the letter, my father described the dreams and drawing adventures of then 9-year-old Ellen, and asked if it would be possible for me to visit the studio. To get to know real cartoon artists and see how a comic book is created.
And lo, we got a reply! The letter was typed, so I don't know if it was written by his own hand, but secretly I keep telling myself it was.

Because they were getting questions like this on a weekly basis, which meant they were more occupied with guided tours than drawing, Willy had long ago decided not to allow any more visits. Understandable. But Paul did suggest that we send in one of my comics so he could take a look at it and give me tips and advice. Also, if I had any questions of my own, I was always welcome to ask. Woohoo! We sent him my seventh album: 'The Singing Pig in China' (fun fact: that "In China" didn't come in until I was already halfway through the album, when I made a headlong decision to completely change my storyline for unclear reasons. Maybe I had just watched Mulan?).

We got back a handwritten letter, with original drawings on some post-it notes in which he gave some tips. How happy I was! And proud, because I had received a letter from Paul Geerts! Fangirling all over the place!

The letter is entirely in Dutch, but I will include it anyway, so you can behold my valuable possession: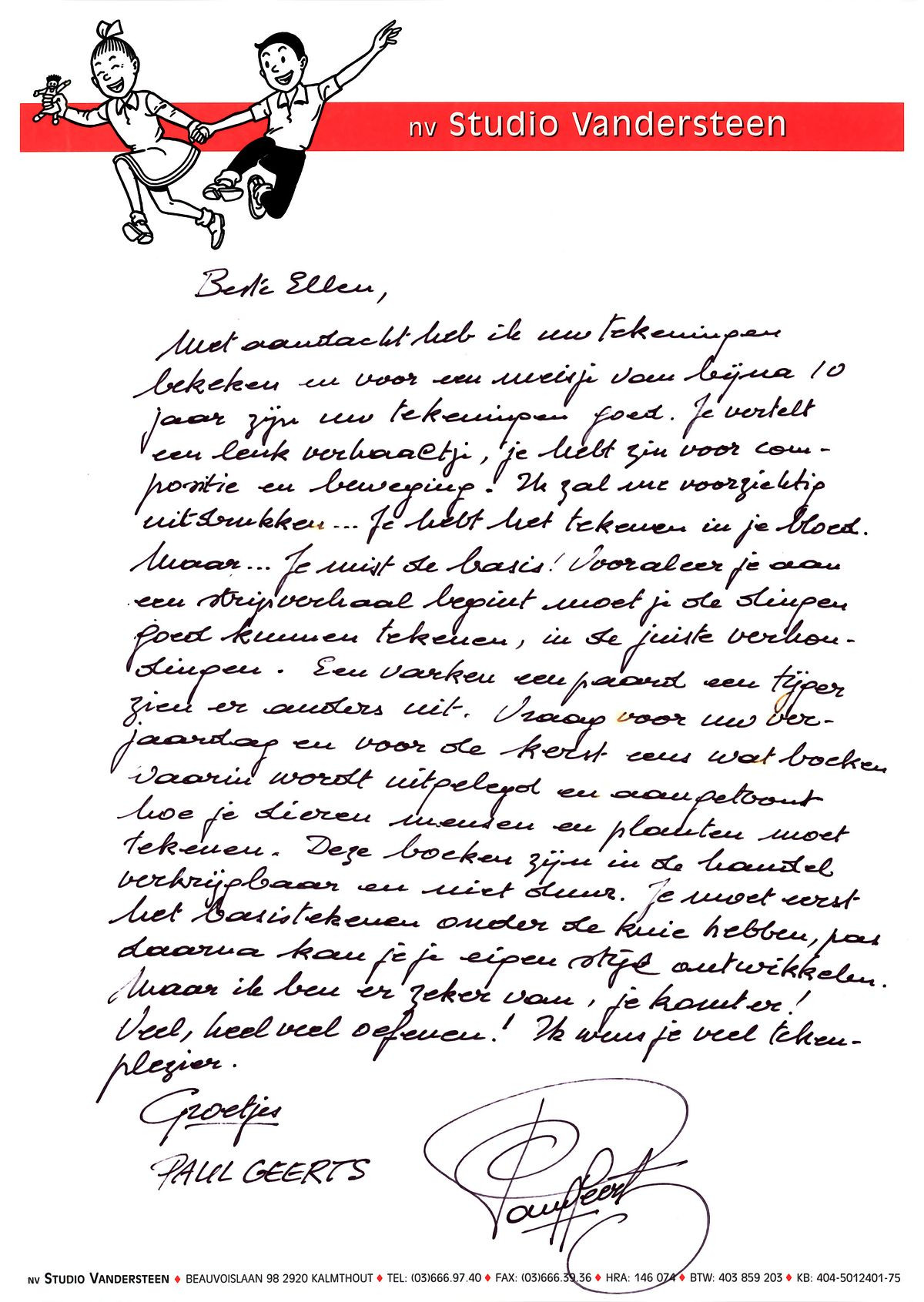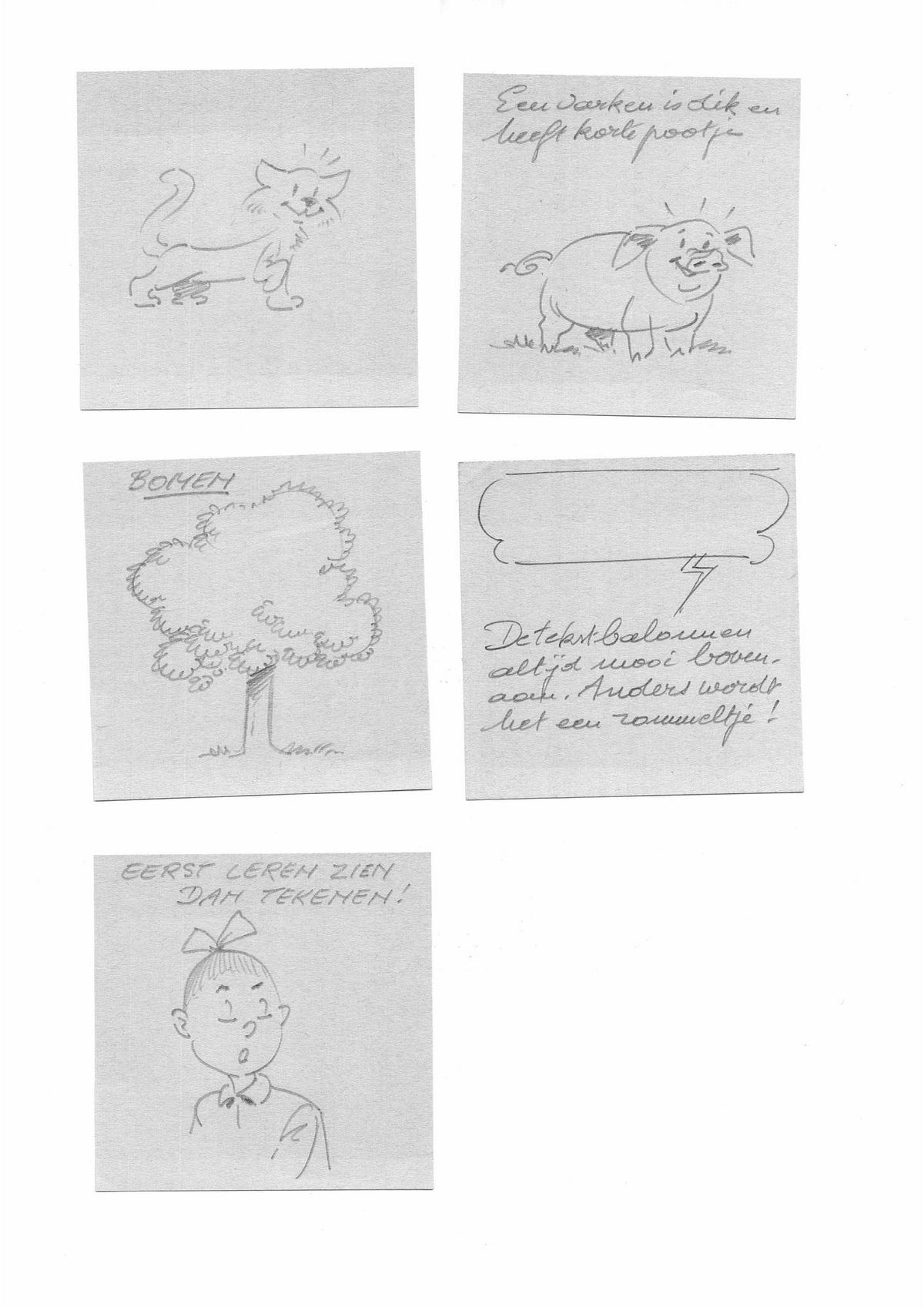 ---
Cowboys and Native Americans
I don't remember what year it was, but after 13 albums I finally got fed up with Wim and his cronies. Gradually I began to show more interest in the fantasy genre and, no idea where that came from, in cowboys, hihi.

Inspired by a number of fantasy artists and cowboy movies, I made a few attempts to make a comic with cowboys in the leading role, a comic with centaurs, and a comic with a Native American and a centaur (maybe it was the horses that did it?). However, I never finished any of those. On the contrary, I never got further than a few pages. I guess I was starting to hit puberty at the time and according to my hormones, drawing comics wasn't really cool. I still own them, of course, so: enjoy (a piece of each, because, believe me, they're not that good to show them in their entirety)!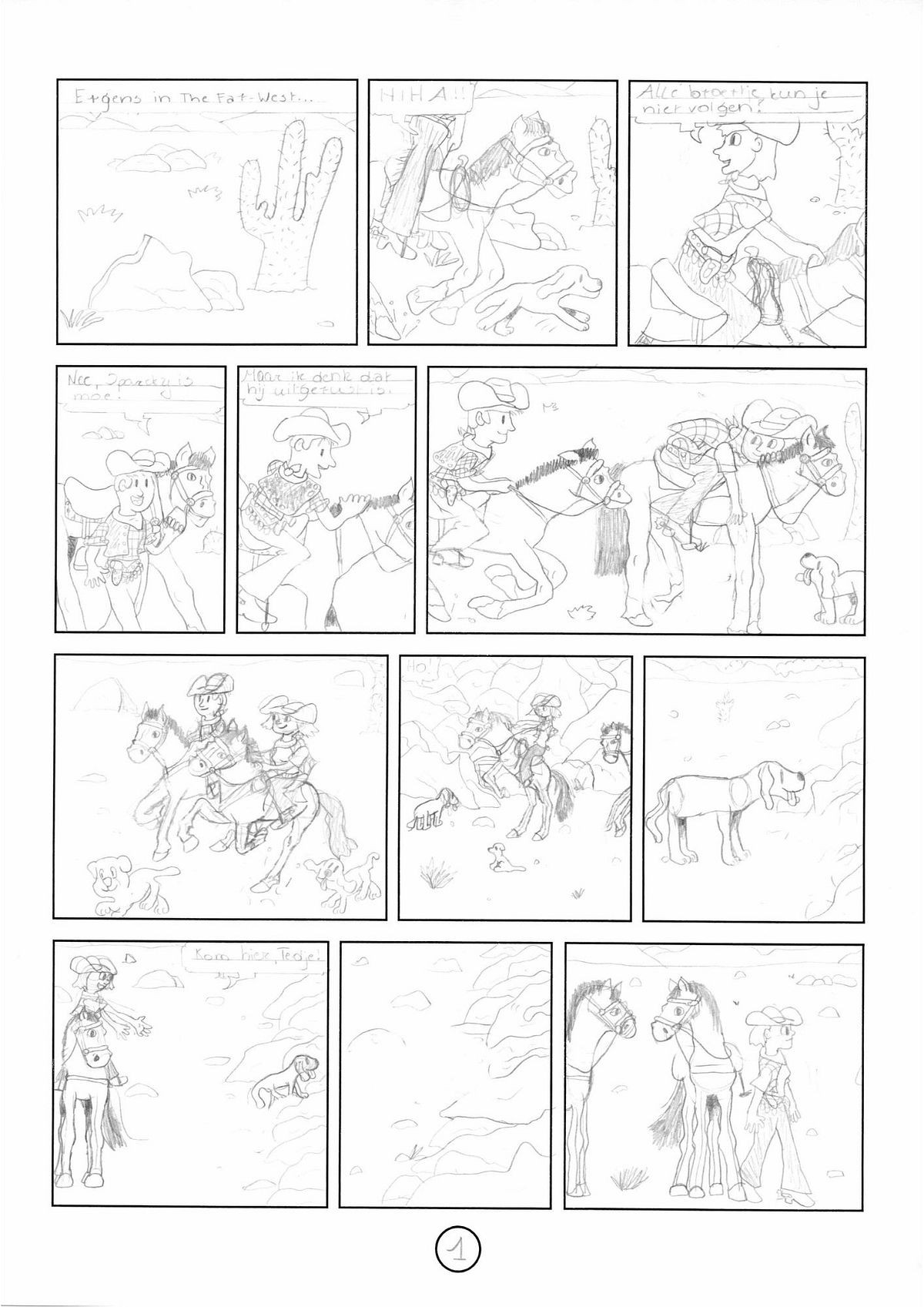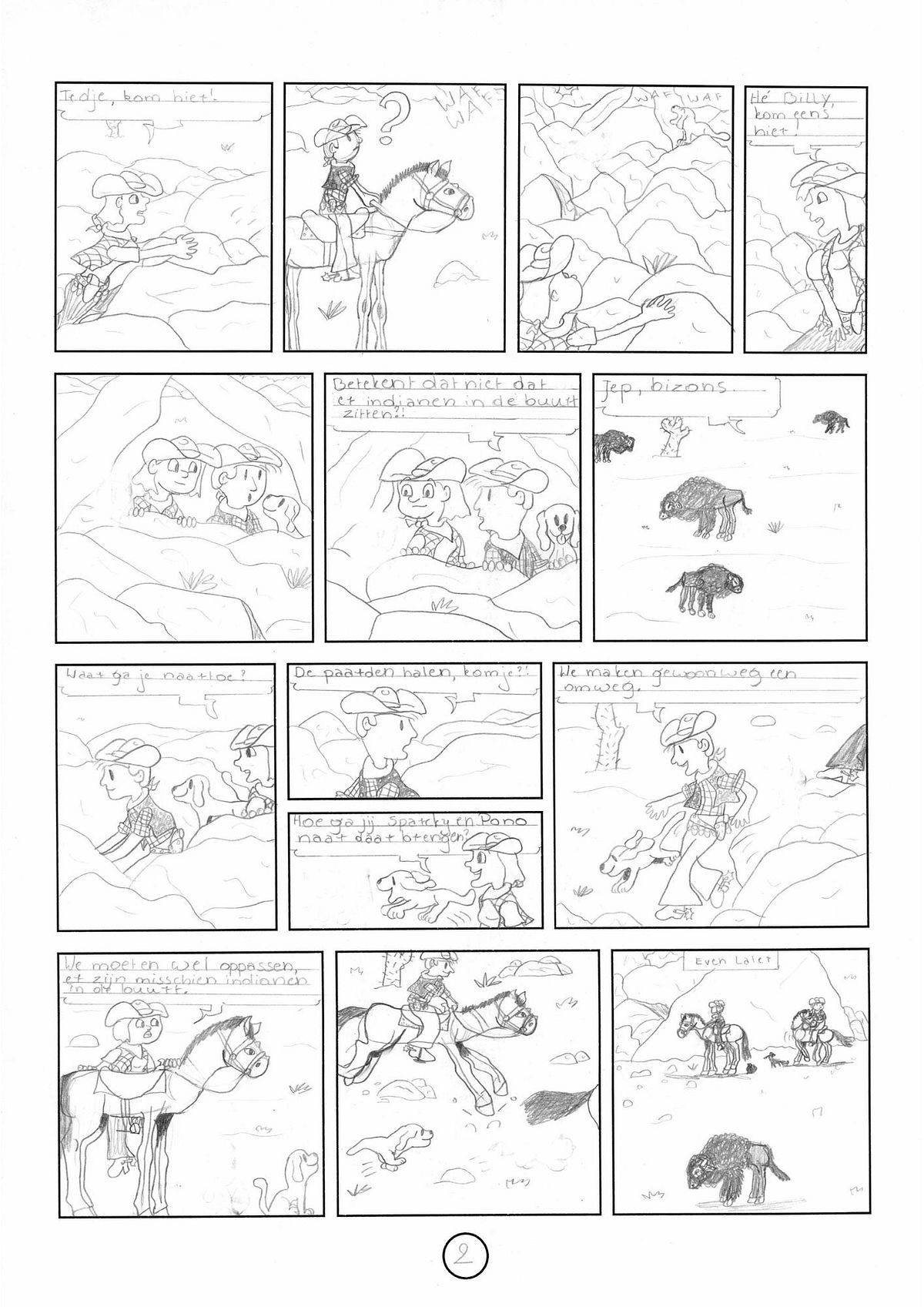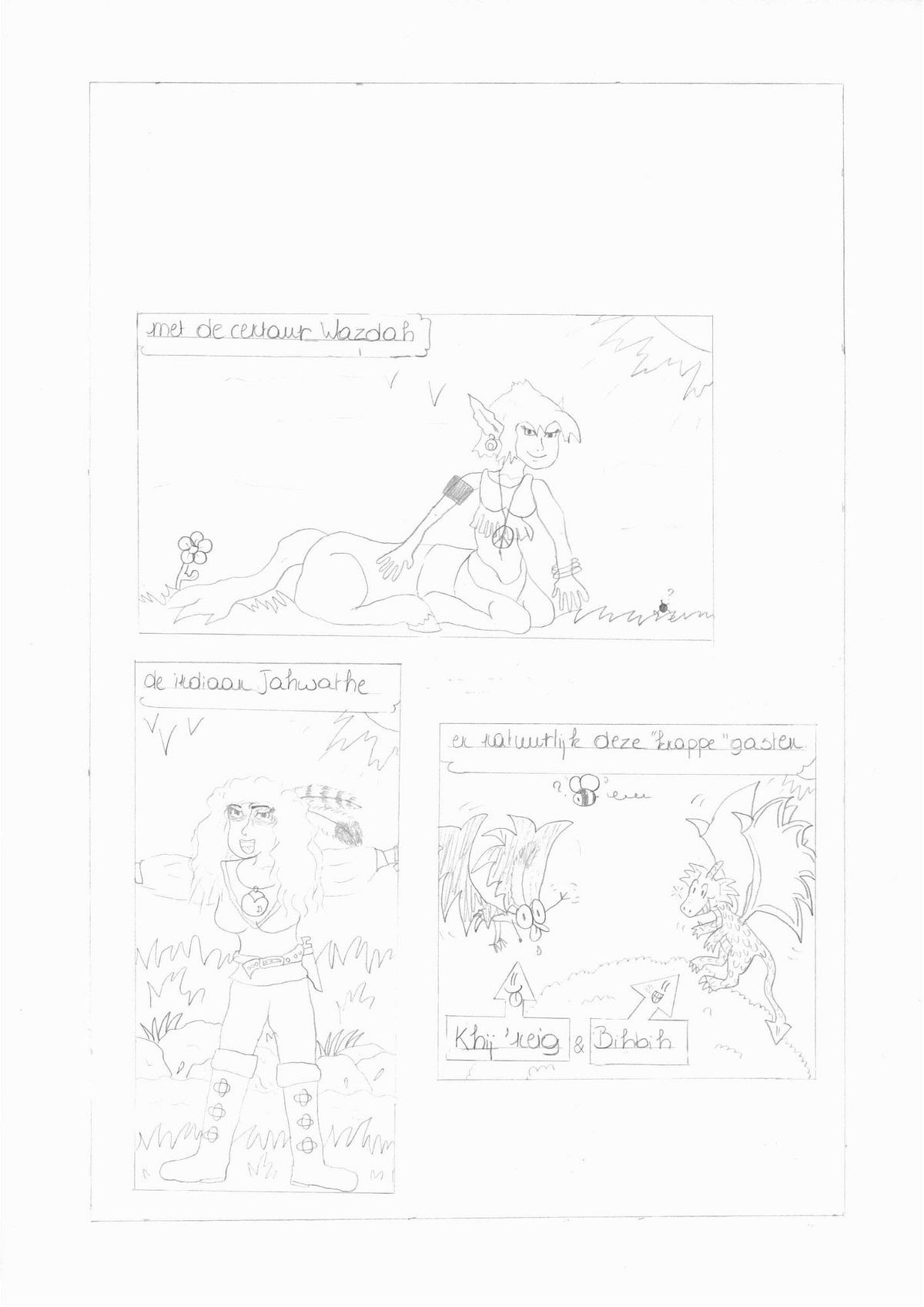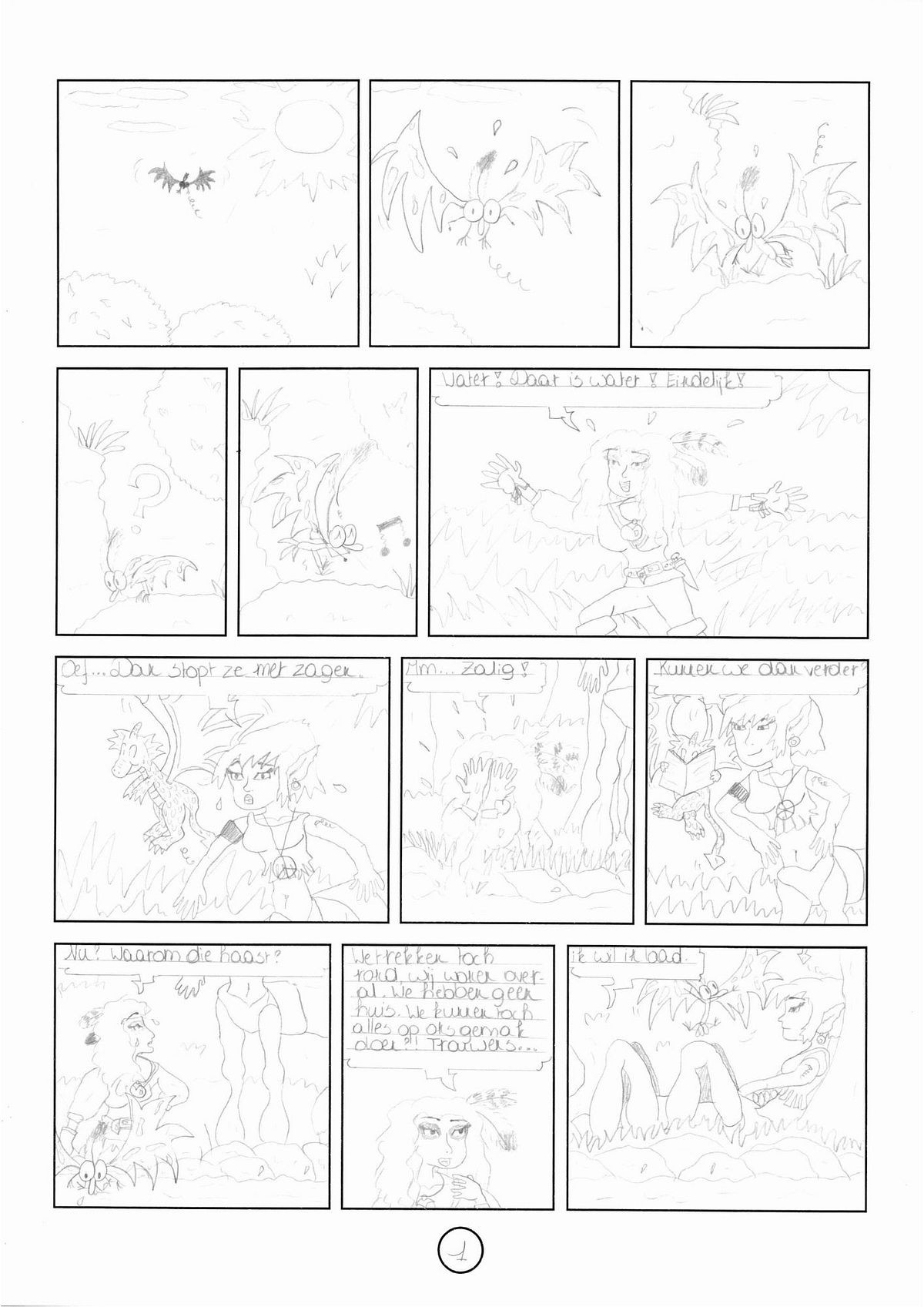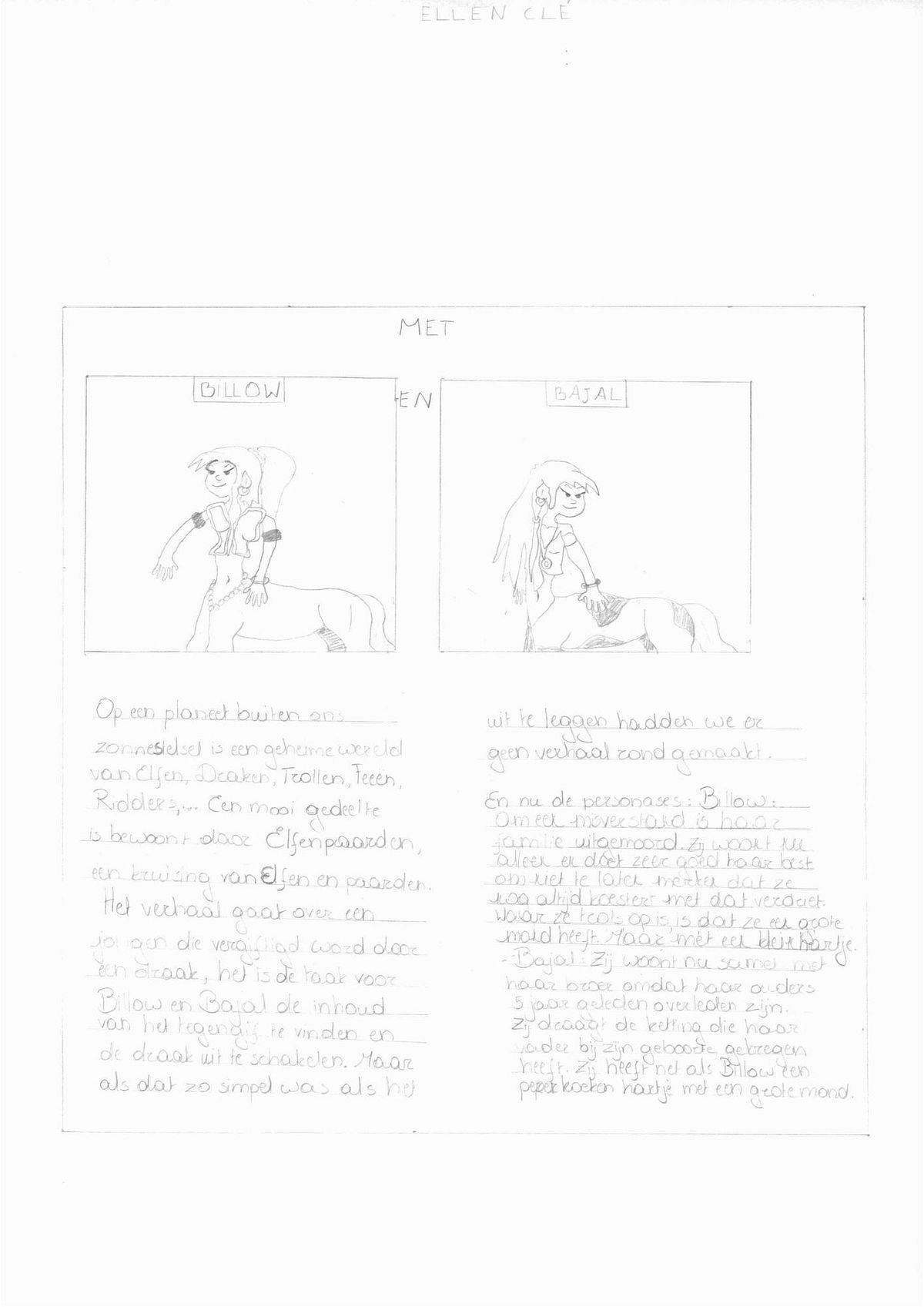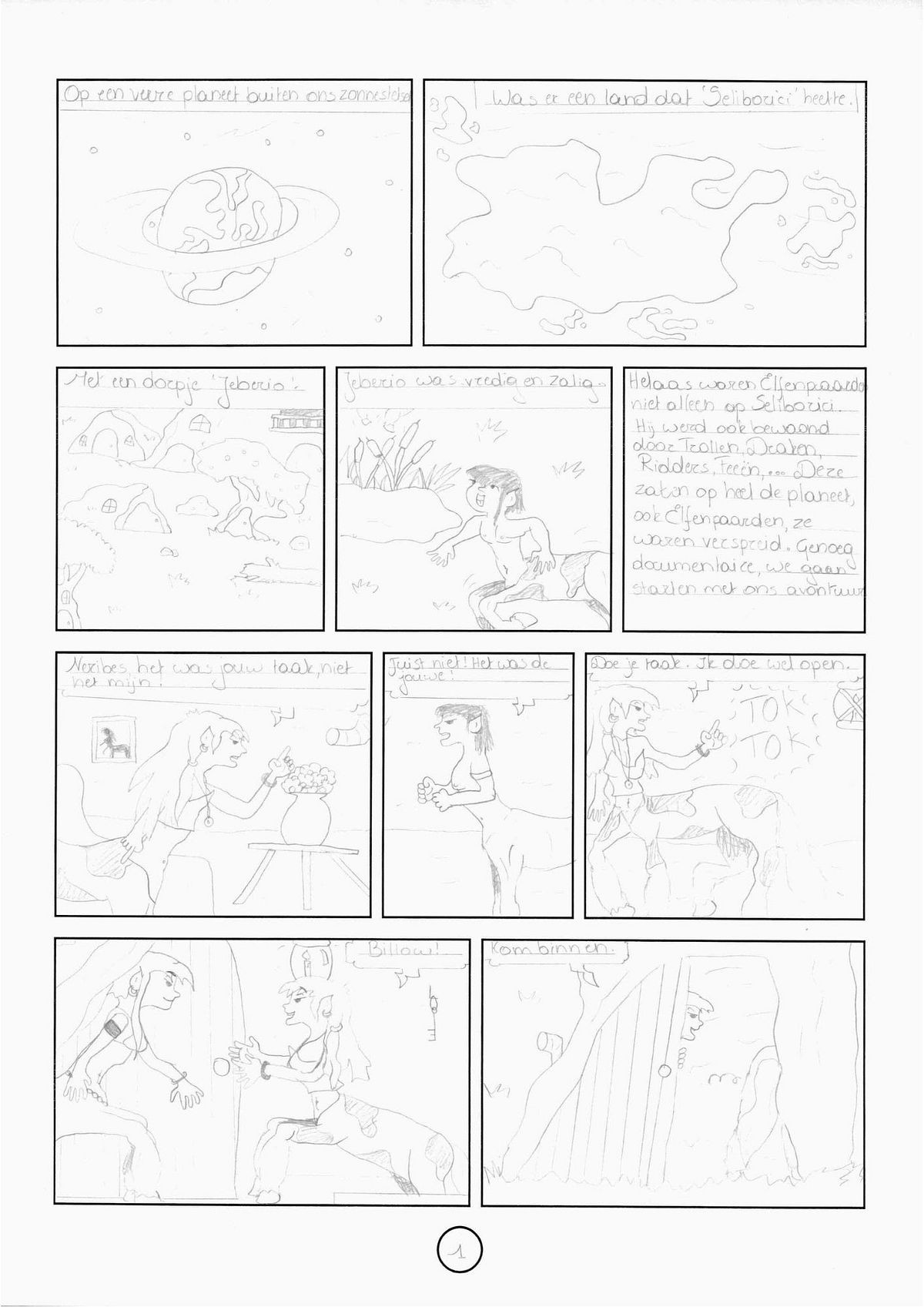 ---
The black memory hole
And from there it's pretty fuzzy in my memory. I don't remember if I drew (much) after that, or what I drew mostly, but that period is a pretty big black hormone-filled memory hole.

The next thing I do remember is that in fifth and sixth grade I discovered Adobe Photoshop. The course I was taking was the only one in the whole school to have classes in Photoshop. A whole new world opened up to me and how I loved it! Very quickly it became my favorite subject and I was always so looking forward to making little graphical designs and experimenting with the program. I even still have some of them: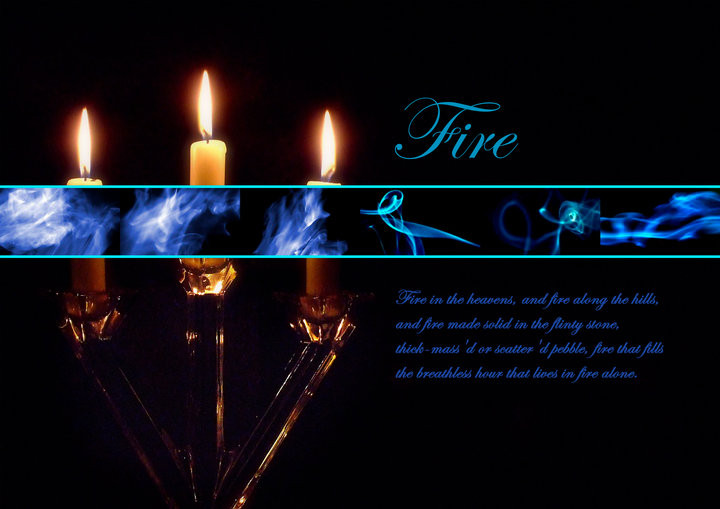 ---
The next step
I didn't really "draw" with Photoshop back then, but they were my first steps into the digital world. In fact, it fascinated me so much that I finally decided, after high school, to major in graphic design or illustration or something like that.

However, it was not that easy ... On the contrary.
What happened next, you will soon read in the second part of this nostalgia journey!

I hope you enjoyed it thus far! 😄
I see you soon!